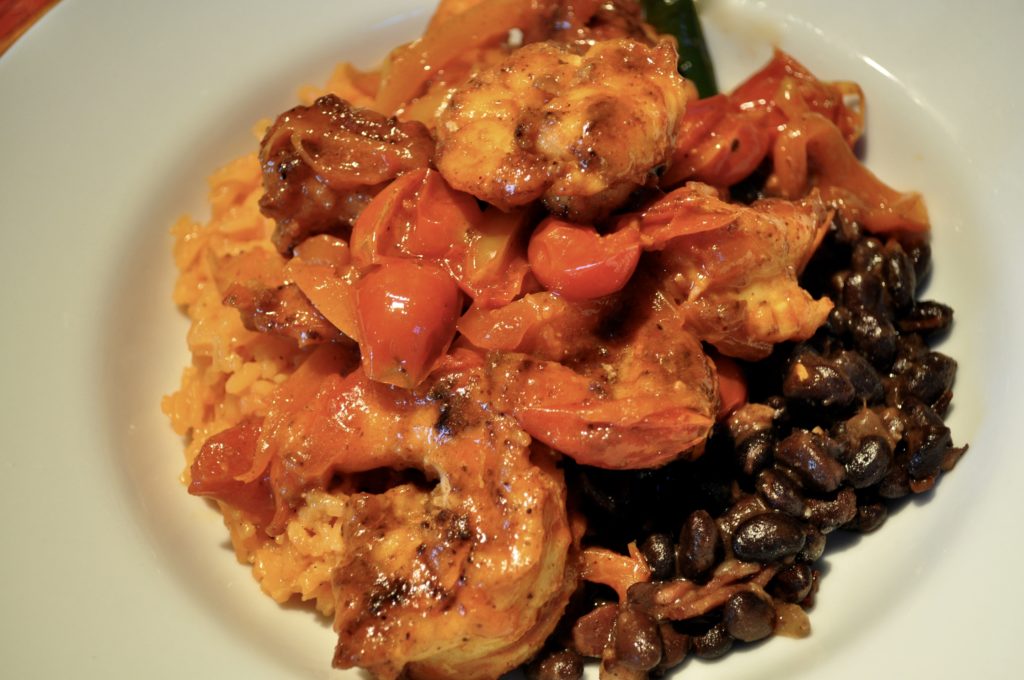 I made this shrimp dish featuring Carolina Gold Rice after a friend in South Carolina sent me a bag. The gold in the name implies that the rice is golden in color but this is not so. I am guessing the name is comparing it to mined gold. Precious? Distinctive maybe? I don't know, but one thing for sure is I have become addicted to this rice so much that I have replaced my old stand-by converted rice with this delicious creamy grain. I made the rice following my original Rice Pilaf recipe and the end result was much creamier and more delicious than the standard converted rice. When I say creamier I mean creamy and not sticky. I can't find this rice in the local grocery stores here but it can be ordered on-line.  http://www.ansonmills.com  (Carolina Gold Rice is milled from organic heirloom grains.)
I like to use Goya Sazon Seasoning because it gives the rice a delicious flavor and a beautiful saffron-like color.
Serves 4
1½      Pounds Large Shrimp (U-15s), Peeled and Deveined
1          Teaspoon Southwest Spice Rub
2          Tablespoons All-Purpose Flour
2          Tablespoons Unsalted Butter
2          Tablespoons XVOO
2          Garlic Cloves, Finely Minced
½         Medium Spanish Onion, Thinly Sliced
¼         Cup Finely Shredded Carrot
¼         Cup Tequila
1          Pint Grape Tomatoes, Cut in Half Lengthwise
1          Small Packet Goya Sazon Seasoning
½         Teaspoon Coarse Sea Salt
1          Tablespoon Cold Unsalted Butter
In a small bowl mix the Southwest Spice Rub with flour. Sprinkle the mixture on the shrimp being sure to evenly coat the shrimp with the mixture.
In a large sauté pan heat the butter and XVOO over medium high heat until hot and the butter stops sizzling. Add the shrimp and sauté until nicely browned on each side. Do not cook the shrimp through. Remove the shrimp from the pan and, in that same pan, add the garlic, onion and shredded carrot. Sauté the mixture until the onion starts to soften and takes on a little color. Deglaze the pan with the tequila. (If your adventurous, flambé the tequila.) Slightly reduce the tequila. Add the tomatoes, the salt and the Goya Seasoning. Sauté the mixture over medium heat, until the tomatoes are cooked and softened, about 20 minutes. Stir often to prevent sticking.
Once the sauce is finished, add the shrimp and cook until shrimp are cooked through, about 5 minutes. To make the sauce richer and more delicious, add 1 tablespoon of cold butter to the pan and toss until butter is melted and incorporated into the sauce.
Serve with Carolina Gold Rice and Black Beans with Bacon.