I like to use large shrimp when grilling because they take well to the heat and grill of a barbeque.  The amount of shrimp depends on how many people you are feeding and how much other food is going to be served.  You know the old saying, "No matter how many shrimp  you have it will never be enough".  An appetizer portion for a menu such as this 4th of July Feast is usually 2 to 3 shrimp per person using JUMBO shrimp such as U-12 or U-15 (U meaning under a pound – U-12 = 12 shrimp or less per pound).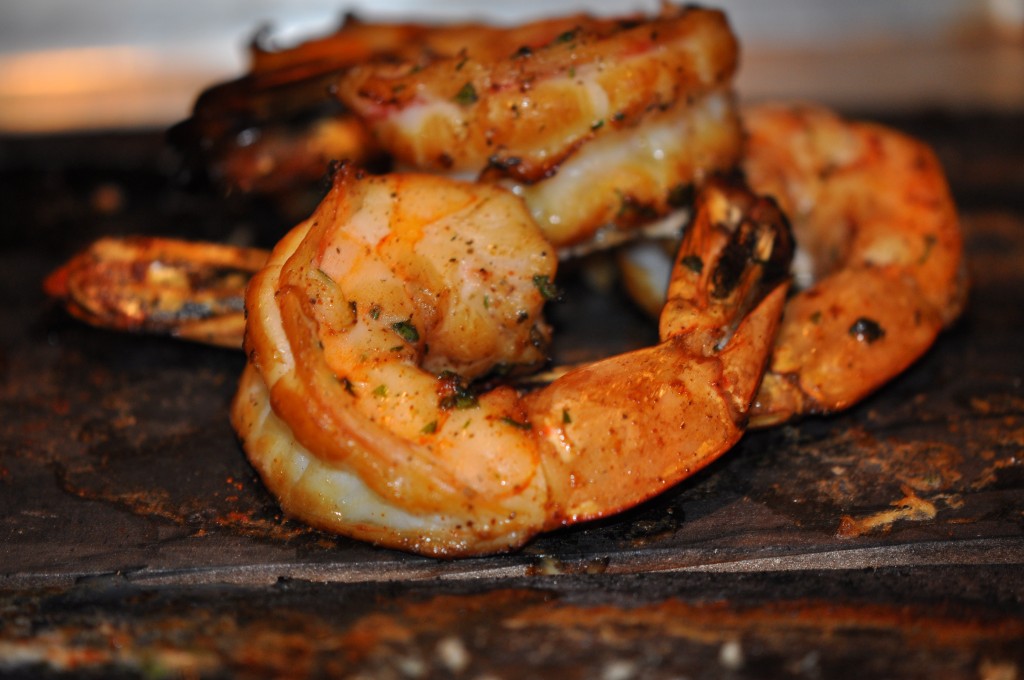 Marinate peeled and deveined shrimp in a drizzle of XVOO , several smashed roasted garlic cloves, freshly ground black pepper, several sprigs of fresh basil, thyme, oregano and flat leaf parsley.  Cover and refrigerator for 1 hour.  Remove herbs and garlic cloves before placing on planks.  Sprinkle with coarse sea salt.
In the meantime, build a big charcoal fire in a grill with a lid such as a Weber Grill, and when the briquettes turn white spread them out in an even layer. Place the cedar planks on the grill and let them char for about 5 minutes. It's always best to put the cover on the grill when you put the planks on the grill: They won't catch fire. After 5 minutes of charring, flip them over and put the shrimp on the planks. Cover the grill and cook the shrimp for 4 minutes.  Flip the shrimp over and cook, covered, for 4 minutes longer.
Transfer the shrimp to a large platter and drizzle XVOO.  Serve warm with Greek Tzatziki.