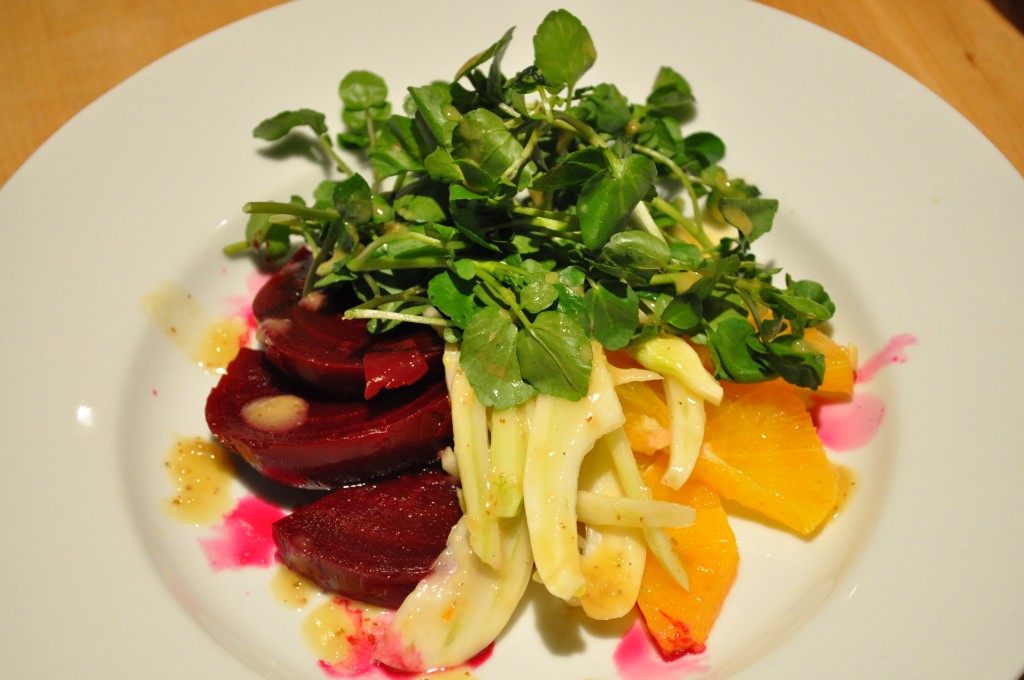 Use naval oranges because there are no seeds.  No seeds make eating this salad a pleasant experience.  You can also switch it around and use golden beets and blood oranges instead.  It's the color thing you are going for.  Bump the salad up a notch by sprinkling a bit of crumbled goat cheese or Maytag blue cheese on the finished dish.
Serves 8
For the Vinaigrette
¼         Cup White Balsamic Vinegar
¼         Cup Freshly Squeezed Orange Juice
1          Medium Shallot, Peeled
1          Tablespoon Coarse Grain Mustard
¼         Cup XVOO
¼         Cup Vegetable or Canola Oil
½         Teaspoon Coarse Sea Salt
¼         Teaspoon Freshly Group Black Pepper
For the Salad
2          Medium Fresh Fennel Bulbs, Trimmed of Frons, Core Removed and Thinly Sliced Lengthwise
3          Large Navel Oranges, Skin and White Pith Cut Off, Sliced in Half Lengthwise and Each Half Sliced into ¼" Slices Crosswise
4          Cups Baby Watercress, Trimmed of Long Thick Stems
Put the vinegar, orange juice, shallot and mustard in a blender and process until pureed.  Wish the motor running add the oil in a slow and steady stream and blend until completely emulsified.  Add the salt and pepper and blend until combined.  Transfer to a glass jar or a squeeze bottle and refrigerate until ready to use. (Vinaigrette can be made a day or 2 in advance.)
In a medium bowl toss the fennel with some of the vinaigrette; enough to just barely coat the fennel.
On a salad plate place 3 half slices of the beets overlapping each other.  Place 3 or 4 slices of oranges on the plate in the same manner as the beets.  Top with some of the fennel.  Mound a bit of watercress on the plate and drizzle all with the vinaigrette.