Last night's dinner was a combination of Indian and Mediterranean foods. The Curry and the Couscous compliment each other perfectly. Both of these dishes are easy to prepare and take very little time to get on the dinner table.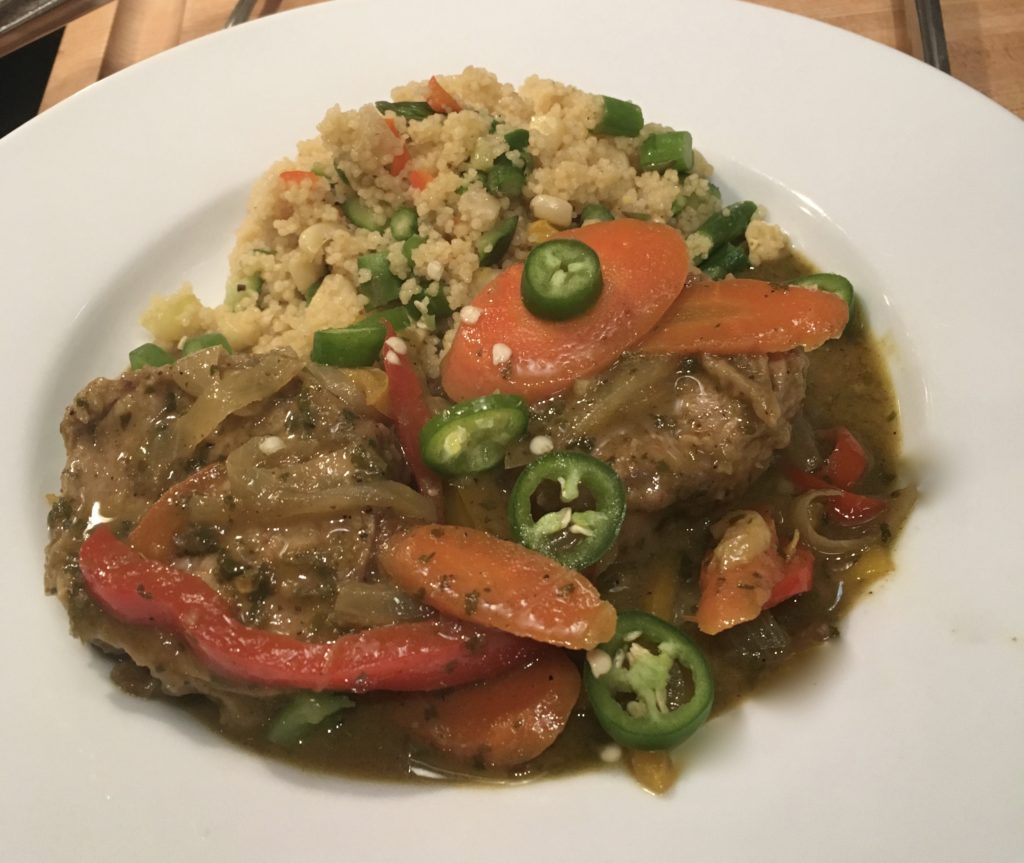 Serves 4
1   Pork Tenderloin Weighing 1½ Pounds, Trimmed of Silver Skin
1   Teaspoon Ground Cumin
1   Teaspoon Ground Coriander
1   Tablespoon Curry Powder
1   Small Bunch Cilantro, Stems Removed
2   Fresh Serrano Chilies, Seeded (Use more if you are a HOT FOOD fan)
1   Tablespoon Fresh Lemon Juice
1   Sweet Onion, Thinly Sliced Crosswise
6   Garlic Cloves, Finely Chopped
1   Red Bell Pepper, Thinly Sliced
1    Yellow Pepper, Thinly Sliced
4   Carrots, Peeled,  Thinly Sliced Crosswise on a Diagonal
3   Tablespoons Vegetable Oil
1   Cup Homemade Chicken Stock or Canned Low Sodium Chicken Stock
1   Cup Unsweetened Coconut Milk
1   Teaspoon Coarse Sea Salt
½ Teaspoon Freshly Ground Black Pepper
1   Recipe Vegetable Couscous
Flour for Dredging Pork Tenderloin
Preheat oven to 425ºF.
In a food processor fitted with the steel blade, make a paste with the cumin, coriander, curry, cilantro, chilies and lemon juice. Heat the oil in a large sauté pan. Sprinkle the Pork Tenderloin with a bit of coarse sea salt and freshly ground pepper. Dredge the Pork Tenderloin into the flour and sauté in oil until nicely browned on all sides.  Transfer the pan with the Pork Tenderloin to the preheated oven and cook for 10 minutes. (The pork will be rare and will finish cooking in the sauce.)
Remove the pan from the oven and transfer the Pork Tenderloin to a plate. With the pan over medium heat, add onion, carrots, peppers and garlic and sauté for 5 minutes. Add the paste to the vegetables and sauté for a few more minutes. Add the chicken stock and reduce by half. Add the coconut milk and reduce again until slightly thickened. Add the rest of the salt and pepper.
Slice the Pork Tenderloin into medallions about 1½" thick and add to sauce to finish cooking the pork, about 5 to 7 minutes. Serve with Vegetable Couscous.