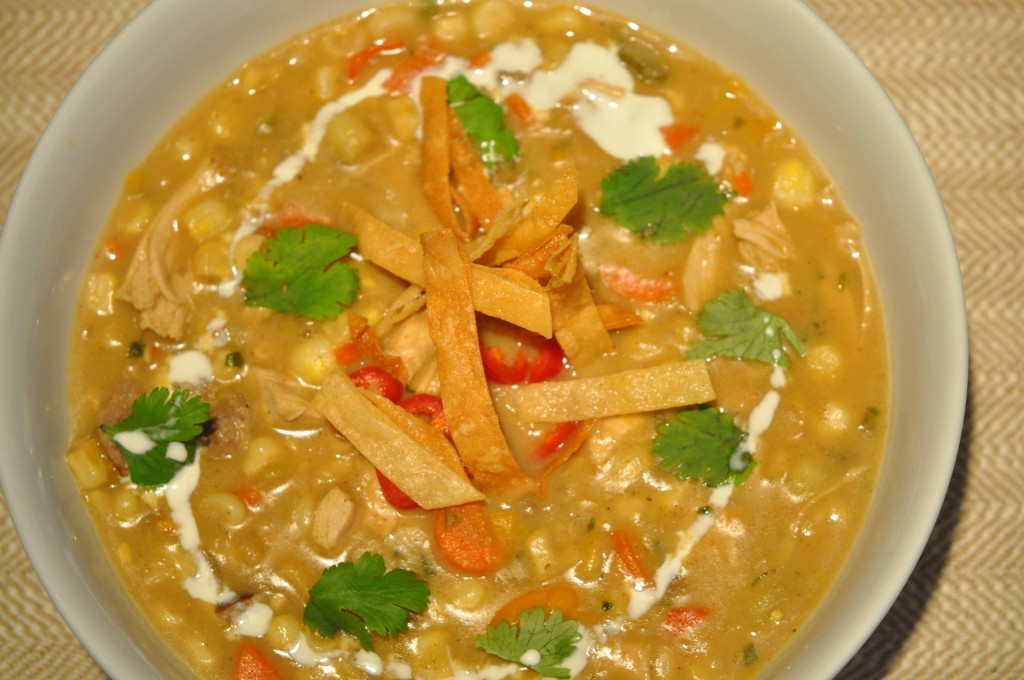 Using the corn cobbs and corn tortillas gives the soup a subtle yet distinctive corn flavor.
Makes About 1 Gallon, Enough for 10 Healthy Portions
2          Tablespoons XVOO
1          Pound Fresh Chorizo Sausage Links
1          Whole Boneless, Skinless Chicken Breast (At Least 1 Pound – Larger is OK)
2          Cups Diced Spanish Onions
2          Cups Diced Celery
2          Cups Diced Carrot
2          Cups Diced Sweet Red Bell Peppers (You Can Mix Red, Yellow, Orange)
1          Jalapeno, Seeded and Finely Minced (Optional)
4          Cups Diced Russet Potatoes, Unpeeled
6          Cups Fresh Corn off the Cobb (From About 8 Ears, Reserve the Ears) or Frozen Corn
1          Tablespoon Coarse Sea Salt
1          Teaspoon Freshly Ground Black Pepper
½        Teaspoon Chili Powder
½        Teaspoon Ancho Chili Powder
½        Teaspoon Chipotle Powder
2          Teaspoons Ground Cumin
8          Ounces Corn Tortillas, Diced
7          Cups Chicken Stock, Heated
½         Cup Heavy Cream
1          Cup Crème Fraiche
½         Cup Chopped Cilantro
Optional Garnishes: Chopped Scallions, Crème Fraiche, Shredded Cheddar Cheese, Sliced Jalapeno, Fresh Cilantro
In a large Dutch oven or stockpot, heat the XVOO over medium high heat. Add the Chorizo Sausage and brown thoroughly on all sides. Remove the sausage from the pan and in the same pan sauté the chicken until golden brown on both sides and cooked through, about 6 minutes per side. Remove from the pan and set aside to cool. Cut the sausage into bit size pieces and either cut or shred the chicken into pieces. Set aside.
Add the onion, celery, carrot, red peppers, jalapeno and potatoes. Reduce the heat to medium and sauté the vegetables for 8 to 10 minutes, until the onion begins to become translucent. Add the salt, pepper, chili, ancho and chipotle powders and the cumin. Add the corn and the diced tortillas. Toss to coat the vegetables and diced tortillas with the seasonings. Sauté for 2 or 3 minutes.
Add the heated chicken stock, stirring continuously, and bring to a rolling boil. Add the reserved corn cobbs and reduce the heat to simmer. Cook the soup, covered, for 45 minutes, stirring often to prevent sticking, until the soup begins to thicken and the vegetable are cooked through. Remove and discard the corn cobbs.
Add the cream and Crème Fraiche and simmer for 15 minutes, uncovered. Add the chicken, Chorizo sausage and the chopped cilantro. Simmer for 10 minutes.
To serve, ladle generous portions into warm bowls. Top each serving with the garnishes. Serve with Tortilla Chips.
Hints and Tips: I like to serve the soup topped with Julienned strips of fried tortillas. To do this cut several tortillas into thin strips and fry in a deep pan with two inches of vegetable oil. Heat the oil to 350° and fry the strips in batches until golden brown. Drain on a paper towel and sprinkle with fine sea salt. Or simply serve with a bowl of tortilla chips and let everyone help themselves.