1          Recipe Pate Sucre
7-8      Large Granny Smith Apples (About 5 Pounds) Peeled, Cored and Sliced  ¼" Thick
1          Cup Golden Raisins (Optional)
1          Cup Toasted Pecans (Optional)
1          Cup Granulated Sugar
¼         Cup All-Purpose Flour
¼         Cup Corn Starch
1          Teaspoon Fine Sea Salt
1          Teaspoon Ground Cinnamon
½         Teaspoon Ground Nutmeg
2          Tablespoons Fresh Lemon Juice (DO NOT USE BOTTLED)
2          Tablespoons Cold Unsalted Butter Cut into Small Pieces
1          Large Egg Beaten with 1 Tablespoon Cold Water
            Coarse Sanding Sugar for Pie Top (Available at Williams-Sonoma)
           Vanilla Ice Cream or Gelato
Preheat oven to 425°. Place the oven rack in the lower third of the oven.
In a large bowl combine the apples, raisins, pecans, sugar, flour, cornstarch, sea salt, cinnamon, nutmeg and lemon juice. Toss until well combined. Set aside.
On a lightly floured surface, roll out one disk of pastry into a 11 or 12 inch circle approximately 1/8" thick. When rolling, add a little flour to the top of the pastry so the rolling pin won't stick. To make an evenly round circle when rolling make a quarter turn with the pastry. In other words, give a few rolls over the pastry, lift the pastry off of the rolling surface and turn it to the right 90 degrees. Do that three times while rolling and you will have a perfect circle. Gently roll the pastry up on the rolling pin and lift over the top of a 9" deep-dish pie dish and roll out. Gently press into the pie dish. You should have about a 1" overhang.
Place the apple pie mixture into the pastry-lined dish evenly distributing the apples. This will allow more even cooking. Pour any juices that may be in the bottom of the bowl over the top of the apple mixture. Dot the apple mixture with the 2 tablespoons of cold butter pieces. Brush the edges of the pastry with the egg wash.
Roll out the second disk of pastry in the same manner as the first. Place the rolled pastry over the apples. Seal the edges by trimming with a scissor. Press the edges decoratively with your thumb and forefinger.
With a sharp thin knife make a whole in the top of the pie to let out the steam while it cooks. You don't want it to explode in the oven – and believe me, it will if you don't vent the pie. Brush the top of the pie with the egg wash and sprinkle with the sanding sugar.
Place the pie on a sheet pan with holes (such as a pizza pan) lined with parchment paper. Bake the pie for 15 minutes and turn down the oven temperature to 375°. Bake the pie for 1 hour more or until the top is nicely browned and the juices are bubbling. You will see some of the juice leek out of the pie on the side. To be sure the apples are cooked, insert a skewer into the vent at the top of the pie. There should be no resistance when the skewer goes through the apples.
If the pie is not cooked through and the crust is beginning to get too brown, loosely cover the pie with aluminum foil by making a tent. You do not want to crush the pie or cover the vent tightly.
Remove from the oven to a wire cooling rack and let the pie cool completely before serving. I like to serve this pie with Caramel Sauce and Vanilla Ice Cream or Gelato.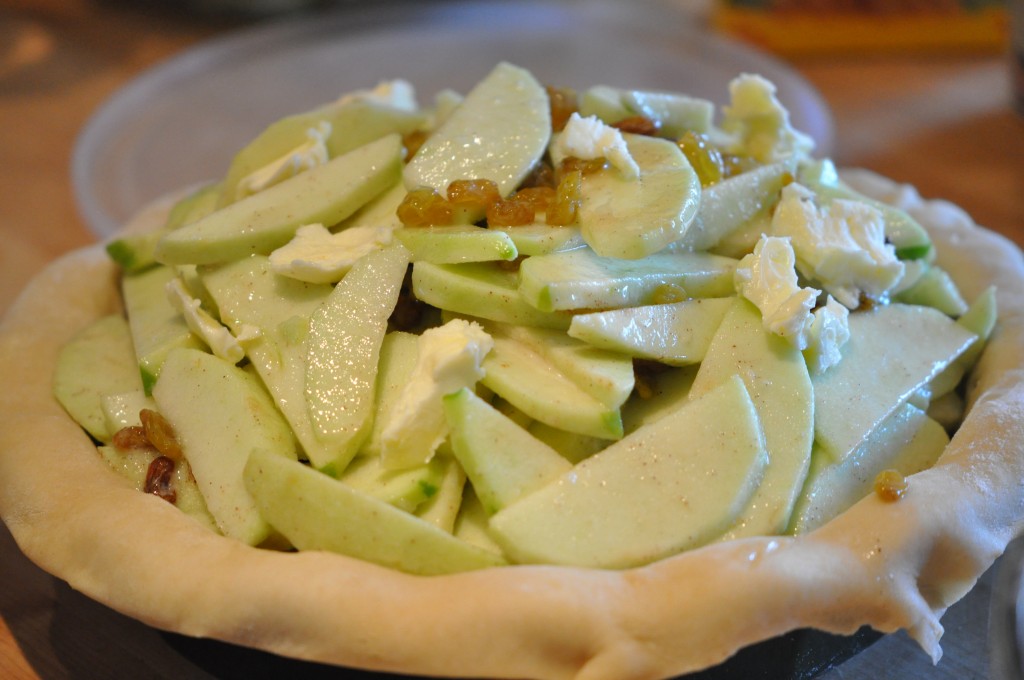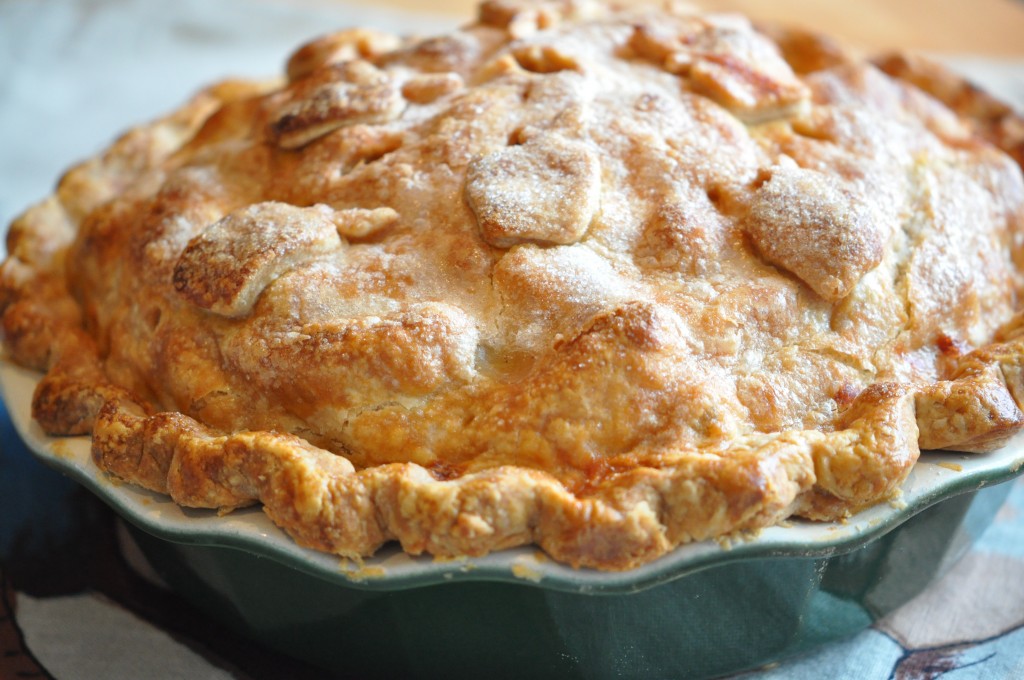 Before The Top Crust Is Put In Place