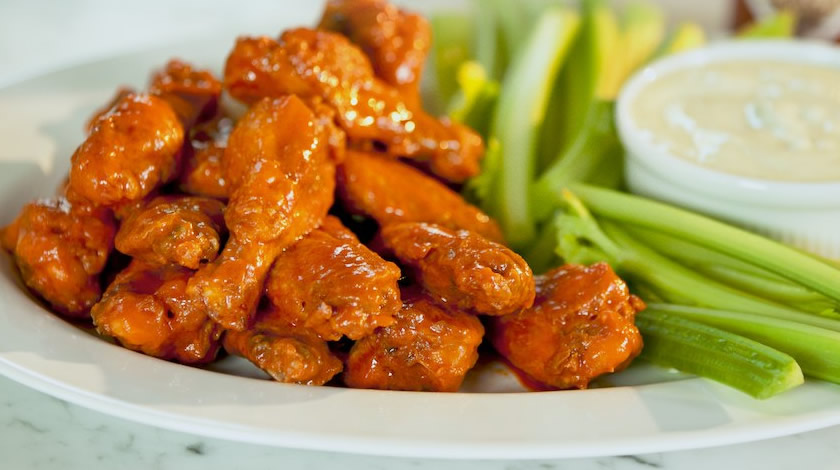 5          Pounds Chicken Wings, 1st and 2nd Joint (No Wing Tips) About 10 Pieces Per Pound
1          Cup Firmly Packed Dark Brown Sugar
¼         Cup Dijon Mustard
¾         Cup Soy Sauce
¾         Cup Vegetable Oil
¼         Cup Whole Garlic Cloves, Smashed
1          Teaspoon Freshly Coarse Ground Black Pepper
1          Cup Buffalo Style Wing Sauce (Durkee's or Frank's)
8          Ounces Unsalted Butter (2 Sticks or 16 Tablespoons)
1          Teaspoon Celery Salt
Blue Cheese Dressing, Celery Sticks and Carrot Sticks
In the bowl of a food processor fitted with the steel blade place the brown sugar, mustard, soy sauce, oil and mix until blended. (Or you can do this by hand first mixing the sugar and mustard to a paste; add soy and mix to combine. Slowly whisk in the oil until emulsified.)
Place the marinade in a shallow baking dish large enough to hold all the wings. Add the wings, garlic, and black pepper and toss to coat. Cover with plastic wrap and refrigerate for at least 4 hours or overnight.
Preheat oven to 425°F.
Remove the wings from the marinade and wipe off as much of the marinade as possible. Spray 2 half-sheet pans with Pam Original Spray and arrange the wings on the pans in a single layer leaving a little room between each wing. Roast one pan at a time for 25 to 30 minutes, or until the wings are thoroughly cooked, turning the wings over half way through the cooking time.
While the first pan is cooking, combine the Buffalo Wing Sauce with the butter and the celery salt. Heat slowly over low heat until butter is melted. As the wings come out of the oven transfer them to a bowl and spoon half of the wing sauce over the wings and toss to coat.
Serve immediately with Blue Cheese Dressing, Celery Sticks and Carrot Sticks.
The wings, once coated, can be kept in a chafing dish to stay hot.