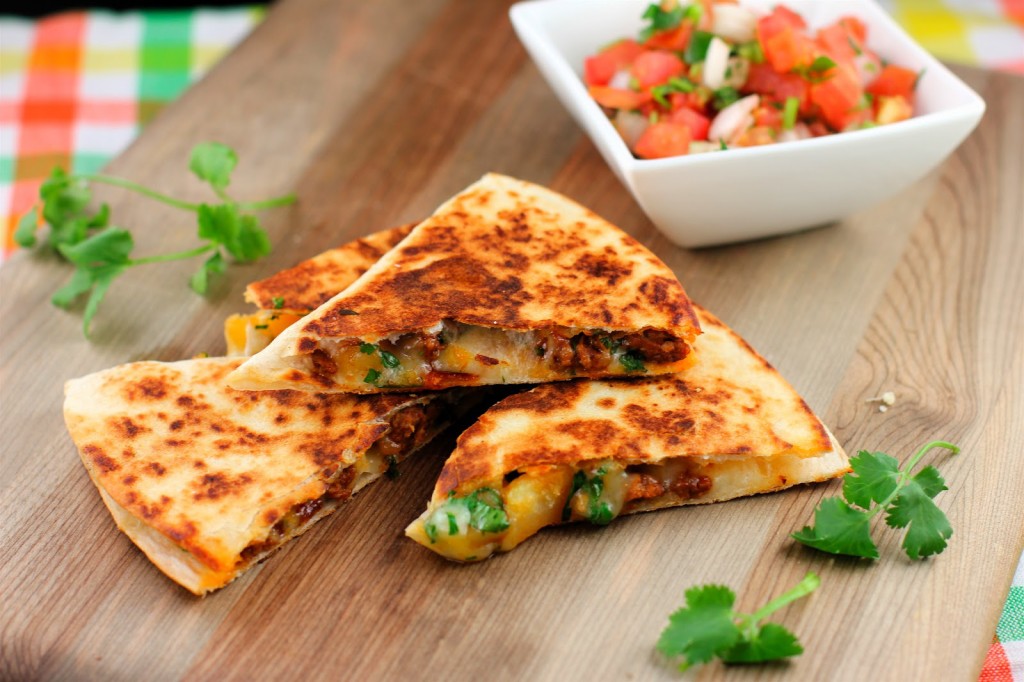 1          One Ounce Package Dried Porcini Mushrooms, Re-Hydrated
½         Pound Baby Bello or Cremini Mushrooms, Cleaned and Sliced
2          Pounds Wild Mushrooms Such as Shitake, Yenoki, Hen of the Woods, Oyster, Trumpet, Hedgehog, Cleaned and Sliced
½         Teaspoon Coarse Sea Salt
¼         Teaspoon Freshly Ground Black Pepper
4          Tablespoons Unsalted Butter
½         Cup Onion Jam, Warm
½         Pound Double or Triple Cream Brie, Sliced into Thin Pieces
6          10-Inch Flour Tortillas
Guacamole, Black Bean/Corn Salsa, Tomato-Green Chili Salsa, Sliced Fresh Jalapeños or Pickled Jalapeños , Crème Fraiche, Mango-Pineapple Salsa to Garnish
Place the dried porcini mushrooms in a small sauce-pan and cover with 2 cups of water. Bring to a boil and continue to boil for 2 minutes. Remove from the heat and let the mushrooms sit in the liquid fro 10 minutes before straining. Strain the liquid through a strainer fitted with cheesecloth or paper towel. Rinse the mushrooms to be sure there is no dirt or sand. Squeeze out as much liquid as possible into the cheesecloth fitted strainer. Set aside the liquid. Coarsely chop the mushrooms.
Clean the wild mushrooms and the Cremini mushrooms of any dirt and/or sand and coarsely chop. You want the mushroom pieces a little on the large side so you can sink your teeth into these wonderfully flavorful morsels.
In a large sauté pan over medium high heat, add 2 tablespoons of the butter. Once the butter is hot and has stopped foaming add half of the mushrooms to the pan and sauté them in two batches. Before you stir them let the mushrooms get a bit of caramelization on the bottom. You don't want them to steam or release their liquid. Add half of the salt and pepper just before you remove from the pan. Add the rest of the butter to the pan and sauté the rest of the mushrooms in the same manner; salting and peppering just before removing from the pan. Remove and add the re-hydrated porcini and set aside.
On one half side each tortilla, place some of the mushroom mixture, onion jam and Brie slices being careful to not go all the way to the edge. Fold the tortilla in half over the filling to make a half moon.
Heat a large sauté pan over low heat and carefully add a tortilla to the pan and cook it until it is lightly browned and toasted, about 2 minutes. (If your pan is large enough to hold 2, cooking time will go much quicker.) Carefully flip it over and cook until that side is lightly browned and toasted and the cheese is melted. Remove from the pan and cut into wedges.
Serve immediately and garnish with Guacamole, Black Bean/Corn Salsa, Tomato Salsa, Sliced Jalapeños and Crème Fraiche.