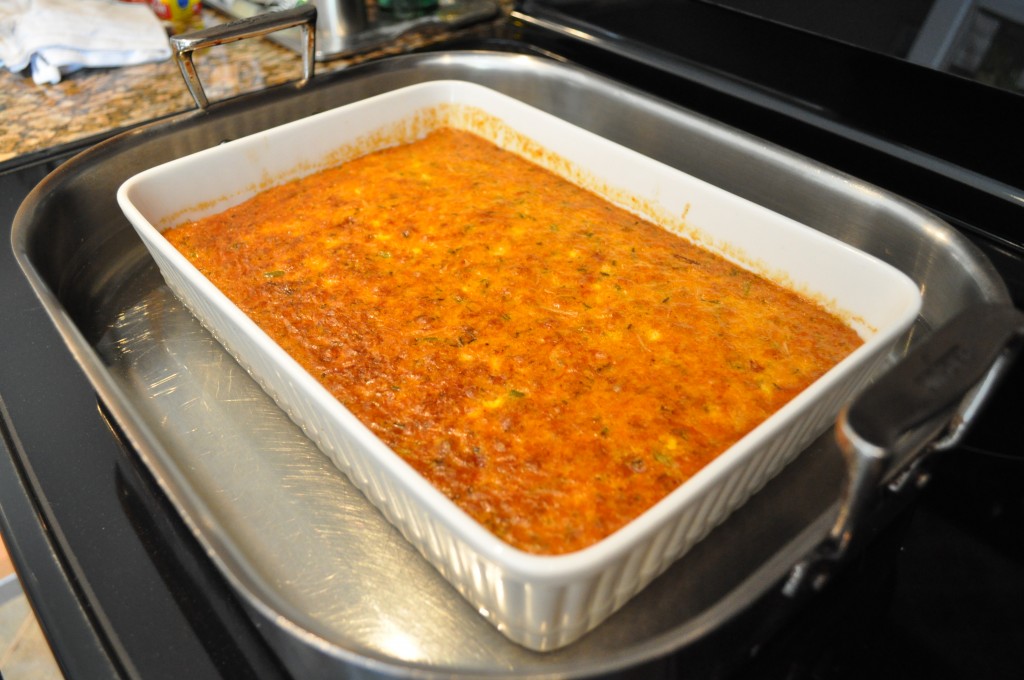 Makes One 9"x13" Casserole
6         Cups Fresh Yellow Corn Kernels Cut off the Cobbs (from 6 to 8 ears) or the Equivalent of Frozen Corn Kernels
1          Cup Chopped Scallions
3          Cups Frozen Peas
6          Large Eggs
2          Large Egg Yolks
1½      Cups Heavy Cream
1½      Cups Half and Half
3          Cups Shredded Mozzarella (Pizza Cheese NOT Fresh Mozzarella)
2          Tablespoons Sunny Paris (From Penzy Spices)
1          Tablespoon Coarse Sea Salt
1          Teaspoon Freshly Ground Black Pepper
Pinch of Freshly Grated Nutmeg
Preheat the oven to 350°.
Spray the inside of Large Baking dish (13x9x3 high) with cooking spray.  Set Aside.  Have a large pot of boiling water at the ready when it's time to bake the pudding.
Whisk together the whole eggs, egg yolks, heavy cream, and half-and-half in a large bowl.  Add Sunny Paris, salt, pepper and nutmeg.  Add the cooked corn, the scallions, peas and grated cheeses to the egg/cream mixture and combine well.   Pour into the prepared baking dish.
Place the dish in a large roasting pan and fill the pan half way up the side of the dish with the boiling water.  Bake the pudding for 1 hour and 15 minutes or until the top begins to brown and a knife inserted in the center comes out clean.  Serve warm.
Roasted Corn – You can use either yellow, white or bi-color corn.  Remove the kernels from the cobb and place on a half sheet pan with sides.  Sprinkle lightly with corn oil and toss to coat.  Roast until kernels begin to take on a slight golden color, about 10 to 15 minutes at 375°.   Alternately you can use frozen corn kernels but you will have to roast a bit longer for the kernels to become drier.