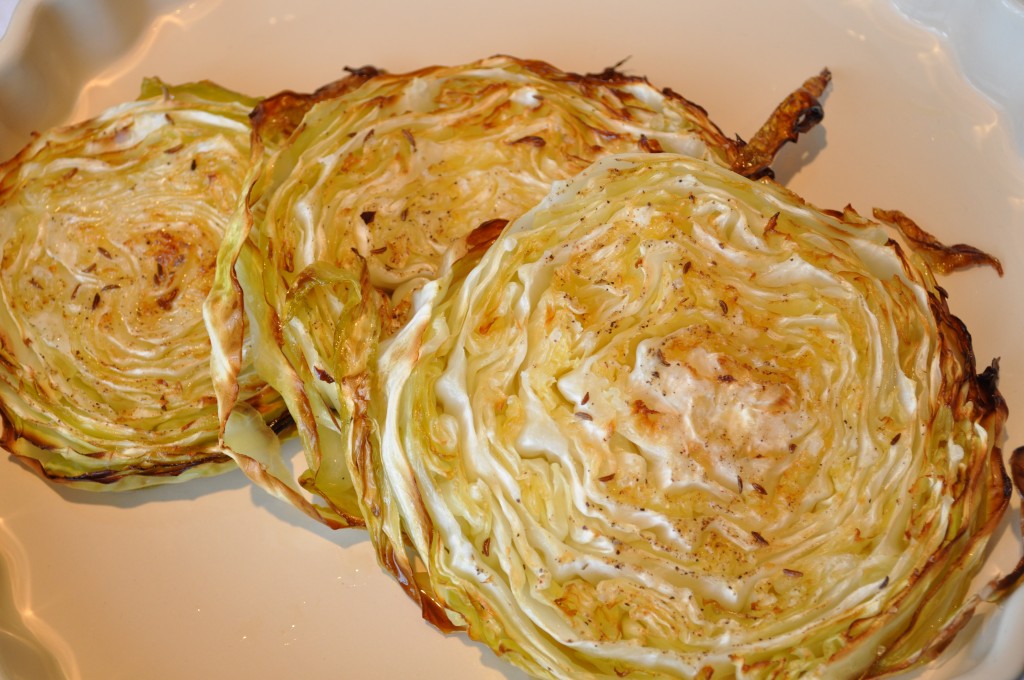 Serves 4 to 6
1          Medium Size Head Green Cabbage, Cut into  1"  Thick Slices
1          Tablespoon Vegetable Oil
1          Teaspoon Coarse Sea Salt
½         Teaspoon Freshly Ground Black Pepper
¼         Teaspoon Caraway Seeds
½         Teaspoon Garlic Powder
2          Tablespoons Unsalted Butter (Preferably Irish Butter), Cut into Bits
1     Cup Corned Beef Cooking Liquid, Homemade Chicken Stock or Low Sodium Canned Chicken Broth
Preheat oven to 400°.
Line a sheet pan with heavy duty foil and spray with cooking spray such as Pam Original.
Place the slices of cabbage on the sheet pan and drizzle with the vegetable oil, evenly sprinkle the salt, pepper, caraway seeds and garlic powder over the slices.  Dot each piece with several bits of butter.  Pour the cooking liquid or chicken stock into the bottom of the pan.
Roasted until cabbage is softened and golden brown, 35 to 40 minutes.  Transfer to a plate and serve immediately.