This is a new and refreshing take on cabbage slaw. It is super refreshing and doesn't need much in the way of herbs. You want to taste the Hearts of Palm and since the flavor is subtle you don't want to disguise it with strong flavors.
Fresh Hearts of Palm are not always easy to find, even in Florida. But you can order them on line by visiting  www.localharvest.org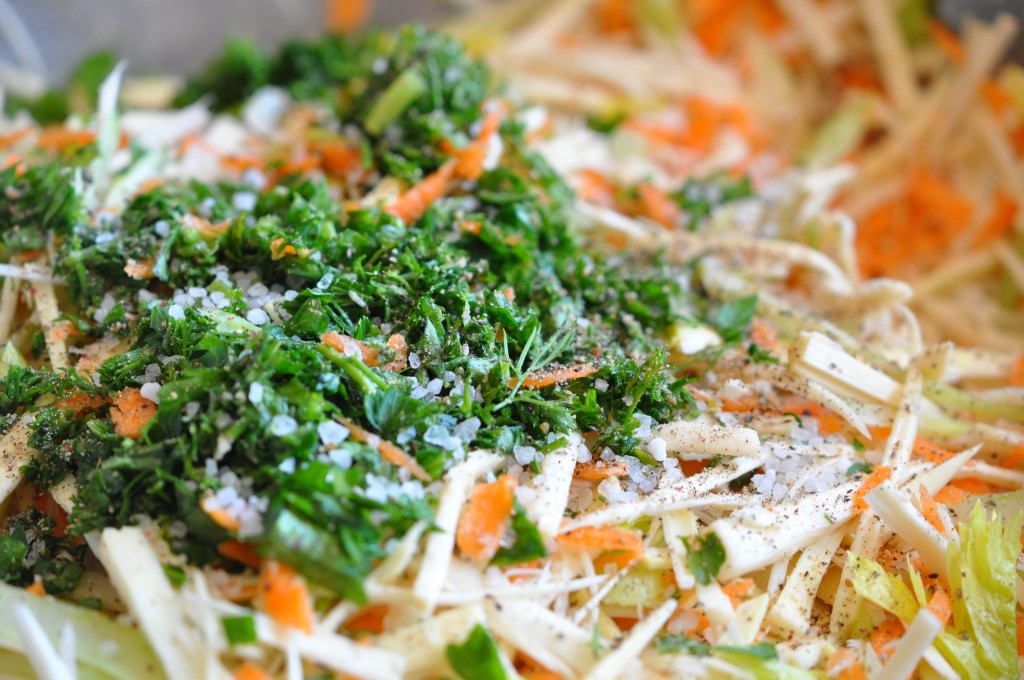 Serves 12 As A Side Dish
5          Pounds Fresh Hearts of Palm
4          Large Carrots, Peeled and Grate Medium on a Box Grater
4          Celery Stalks with Tops, Thinly Sliced on an Angle Crosswise
½         Medium Red Onion, Thinly Sliced Lengthwise
½         Cup Flat Leaf Parsley, Finely Chopped and Squeezed Dry
1          Cup Mayonnaise
2          Tablespoons Dijon Mustard
2          Tablespoons Granulated Sugar
¼         Cup White Balsamic Vinegar
1          Teaspoon Coarse Sea Salt
½         Teaspoon Freshly Ground Pepper 
Remove the hard outer core from each heart of palm and discard. You will have about 1½ pounds of trim. The inner part of the heart of palm will be semi-soft. Cut each heart of palm in half crosswise (each should be about 6 inches before cutting). Cut each piece into thin julienne strips.
In a large bowl combine the julienned hearts of palm, shredded carrots, sliced celery, sliced onion and chopped parsley.
In a medium bowl combine the mayonnaise, mustard, sugar, vinegar, salt and pepper. Whisk the ingredients until well combined. Pour over the hearts of palm mixture and toss to incorporate. Check for seasoning.
Transfer to container with a lid and refrigerate several hours or overnight, giving the salad time to blend the flavors.