To compliment the curry, I served a variety of condiments. Chutney is a key element and great companion for curry dishes and, since I live in the land of mangos, I always have a jar of homemade mango chutney in my refrigerator. There are many great chutneys at the grocery; you will not have any trouble finding a good one.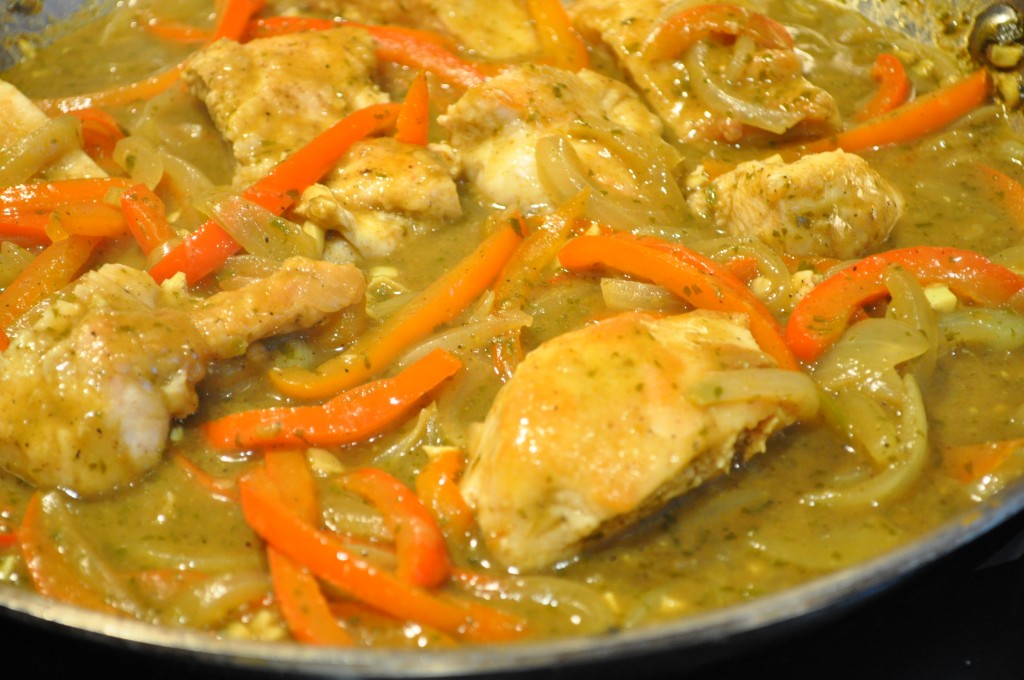 Serves 4
1          Teaspoon Ground Cumin
1          Teaspoon Ground Coriander
1          Tablespoon Curry Powder
1          Small Bunch Cilantro, Chopped
2          Fresh Serrano Chilies, Seeded (Use more if you are a HOT FOOD fan)
1          Tablespoon Fresh Lemon Juice
2          Small Sweet Onions, Thinly Sliced
6          Garlic Cloves, Finely Chopped
1          Red Bell Pepper, Thinly Sliced
1          Green Bell Pepper, Thinly Sliced
3          Tablespoons Vegetable Oil
4          6-Ounce Boneless Skinless Chicken Breasts
1          Cup Homemade Chicken Stock or Canned Low Sodium Chicken Stock
1          Cup Unsweetened Coconut Milk
1          Teaspoon Coarse Sea Salt
½         Teaspoon Freshly Ground Black Pepper
Flour for Dredging Chicken
Cilantro Leaves, Toasted Coconut, Mango Chutney, Golden Raisins for Garnish
In the food processor fitted with the steel blade, make a paste with the cumin, coriander, curry, cilantro, chilies and lemon juice. Heat the oil in a large sauté pan. Sprinkle the chicken breast with a bit of course sea salt and freshly ground pepper. Dredge the chicken into the flour and sauté in oil until nicely browned on both sides. (You want the chicken almost cooked but not quite.) Remove the chicken from the pan and add onion and garlic and sauté for three minutes. Add peppers and paste and sauté for a few more minutes. Add chicken stock and reduce by half. Add coconut milk and reduce again until slightly thickened. Add the rest of the salt and pepper.
Cut chicken breasts into large pieces and add to sauce to finish cooking the chicken. Serve over Saffron Coconut Rice.