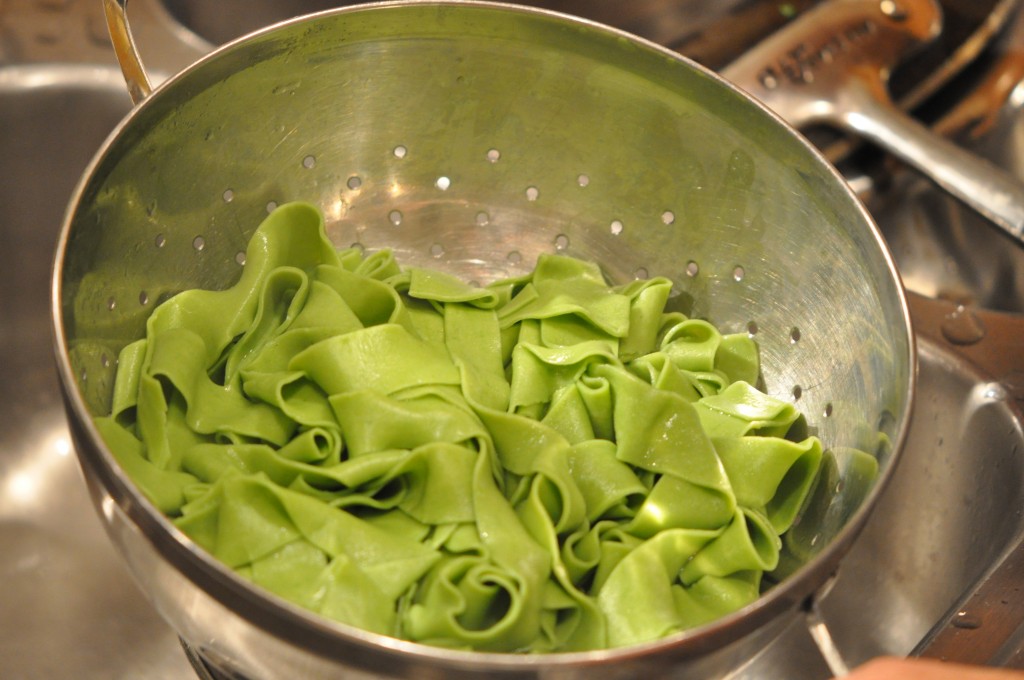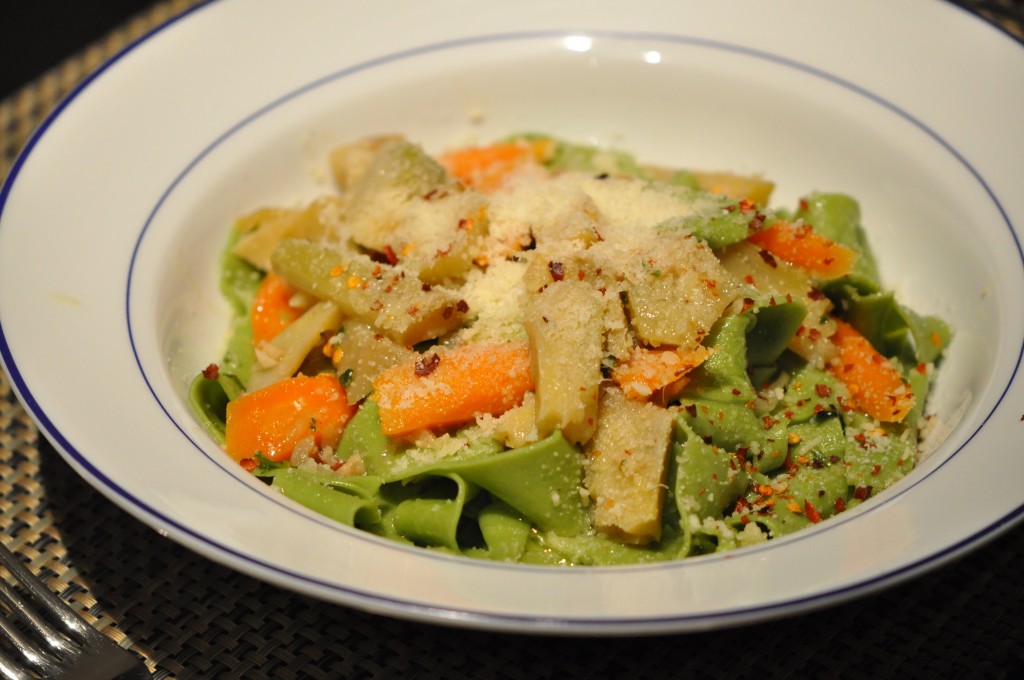 This Blog may not mean much to you unless you are into making your own fresh pasta or you are adventurous enough to try it for the first time.  Please try making it following my instructions and I think you will be pleasantly surprised at how easy it is to make and how delicious it is to eat.  To give you a time line it should take you a total of 2 1/2 to 3 hours from start to finish.  It will take about 30 minutes to make the dough, 1 hour to rest and 1 hour to roll and cut out the dough.  Your first time making pasta might take a little longer  but it will be worth the time and effort in the end.

This recipe will feed 4 people as a first course.

Saturday I decide to make home made pasta.  Not a hard task for me since I have been making fresh pasta for years.  What made this experience truly enjoyable was the fact that I decided to go outside the box and experiment with my recipe.  It's easy to do the same thing over and over knowing the results will be good but, ho hum, there's no fun in that.  Experimenting is always a challenge and quite exciting for me. 
I started by reading  some recipes written by famous Italian chefs and what I got from them was absolutely nothing different until I read Giorgio Locatelli's cookbook "Made In Italy."  I've had the book for a couple of years and, although I read the book cover to cover (I do with all cookbooks), I never used any of the recipes.  I went to the fresh pasta section and read about using Doppio Zero Farina (Doppio is double and Farina is flour in Italian).  The reason for using double zero flour is because it is superfine with small, fine particles which will give you a smoother dough.  Locatelli's recipe calls for more eggs than I normally use, claiming more eggs means more protein and more protein makes for a more elastic dough making it less brittle.  He is so very right.
I forged ahead making my pasta with
3 1/2 Cups Double Zero Flour,
3        Whole Large Eggs
2         Large Egg Yolks
5         Ounces Fresh Spinach, Blanched, Squeezed Dry Of All Moisture
I made my pasta in the traditional manner by piling the flour on my board, making a well in the center, adding the eggs and spinach and incorporating the wet ingredients into the flour by using my fingers.  (Too make it easy to incorporate the spinach into the flour, I put the spinach into a blender with the two yolks and blended it all together.)  Once it was all incorporated I began bringing the dough together, not by adding water, but by using wet hands to help.  You don't want your dough too wet and by having wet hands you have complete control (my favorite two words) on how much you add.  Once it was in a ball I began kneading, as I always do, for 10 minutes.  No changes there.  Kneading vigorously for ten minutes stretches the gluten which gives the dough more of the elasticity I am going for.   On the other hand, kneading too long will result in broken strands.  After 10 minutes of kneading I cut the dough in half, wrapped it in a lightly dampened flour sack towel and let it rest for 1 hour.
After an hour I brought out my pasta machine (a gift from my mother so many years ago) and began rolling out the dough.  I started by cutting the first ball in half and, using a rolling pin, rolled it out to about half an inch thick.  (Keep the rest of the dough covered until you use it to keep it from drying out.)  Rolling the dough using a rolling pin before putting it through the rollers of the pasta machine helps to get it through the first roll on the machine without force.  You don't want to force the dough through the rollers as it will squeeze out the moisture you want to keep in.  I rolled the dough through the largest thickness (#8 on my machine) at least six times folding it over itself each time I put it through the roller, alternating folding lengthwise and crosswise.  Next I set the dial down one notch (#7) and put it through 3 times doing the same folding action.  You will notice that any streaks that are present are beginning to disappear and the dough is becoming shiny.  Repeat these steps going down a notch each time until it is the thickness you want.  Cut the long length of dough in half when it becomes to long to handle as you don't want it to start to pleat when it goes through the roller.  You will see what I am talking about when it is too long.  Lightly dust the long length of dough if it seems too wet and might stick to the roller.  I go all the way down to notch #3.  I realize that every machine is different but if you've made pasta in the past you will know the thickness you like.
I wanted to make the thicker Tagliatelle so I hand-cut the pasta because my machine's cutting rollers are too thin.  To hand-cut, loosely roll the long piece of lightly floured dough lengthwise and with a sharp knife cut the width to your liking.  Shake out each strip onto a lightly floured surface.  Pick up several strands at a time, twist the strands into a loose nest and place onto a tray lined with a lightly floured dry towel.  Sprinkle  the "nest" very lightly with a little more Double Zero Flour (you should be using this flour only) and cover with a dry towel.  Continue on with each of the other pieces of dough, finishing completely with the previous piece of dough before moving on.
To cook the pasta, bring a large pot of salted water to a boil, add your beautiful pasta, bring back to a boil, gently stirring to keep it moving and boil for a couple of minutes, tasting the pasta after one minute to be sure it is perfectly al dente.  Drain the pasta and dress it with your favorite sauce or condiment.
The end result of this pasta was absolutely the best pasta I have ever made.  The Pasta was not starchy at all. 
I hope you try making your own fresh pasta, love doing it and will continue making it.