We made the big move and left Fort Lauderdale after 42 years of fun in the sun. A life of wonderful memories was cultivated in The Sunshine State:  A life where I began my career working in kitchens, becoming a chef and creating a successful catering business.
Now that we are in Greenville, South Carolina, I am finally able to take advantage of a REAL farmers market with freshly grown veggies, fresh seafood from the East coast, artisan cheeses made at local dairies, fresh eggs, meat and poultry from local ranches, and so much more.
Last Saturday night I created a true farm to table dinner serving our wonderful friends that lured us to Greenville in the first place. I could not be happier and I am in food heaven after all of these years of yearning for a real market. The market takes place six months out of the year on Main Street in Downtown Greenville. It runs until the end of October at which time I will switch gears and visit a farmers market that takes place indoors during the winter.
I am so happy to be here.
Here is the recipe for Red Snapper bought at the market and a few other delicious items that went along with it. Everything we ate was gathered at the farmers market.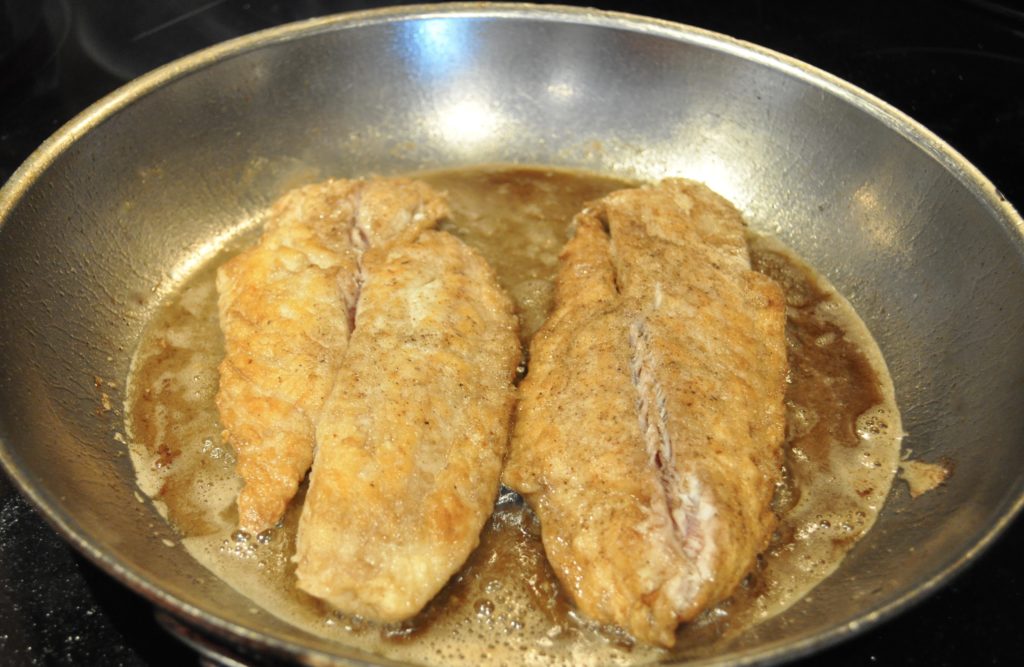 This dish could not be any easier and any more delicious since it is embellished with wine and butter only. The flavor of the fish needs no interruption with herbs or capers. Cooking the fish in the wine at the end gives both the fish and the sauce a balance of flavors. I recommend using large fillets because the fillets are thicker,and can finish cooking in the wine without overcooking and drying out. Thinner fillets cook to quickly for this recipe.
Serves 4
2          Red Snapper Fillets Each Weighing 1 Pound, Skin and Pin Bones Removed, Cut Into 4 Portions
¼         Cup All-Purpose Flour
½         Teaspoon Coarse Sea Salt
¼         Teaspoon Freshly Ground Black Pepper
2          Tablespoons XVOO
1          Tablespoon Unsalted Butter
½         Cup White Wine
2          Tablespoons Unsalted Butter
Combine the flour, salt and pepper in a dish. Dredge the fish fillets in the flour.
In a large sautéed pan melt 1 tablespoon butter with the XVOO over medium high heat. When the butter stops sizzling add the fillets to the pan, top side down (Shake off excess flour first). Cook the fillets until golden brown. Carefully flip the fillets and cook until golden brown on the second side: about 2 minutes per side. Add the White Wine to the pan with the fish and reduce the heat to medium. Cook until the fish is done and the wine has reduced by half.
Remove the snapper fillets from the pan to a warm serving platter and remove the pan from the heat. Add 2 tablespoons butter and swirl until incorporated and a sauce has formed. Pour the sauce over the fillets and serve immediately.
I served the Snapper on a bed of Mashed Potatoes and Turnips with Fresh Sage bought at our friend's booth at the farmers market. I was lucky to find baby turnips but regular size are ok as well. Here is the recipe.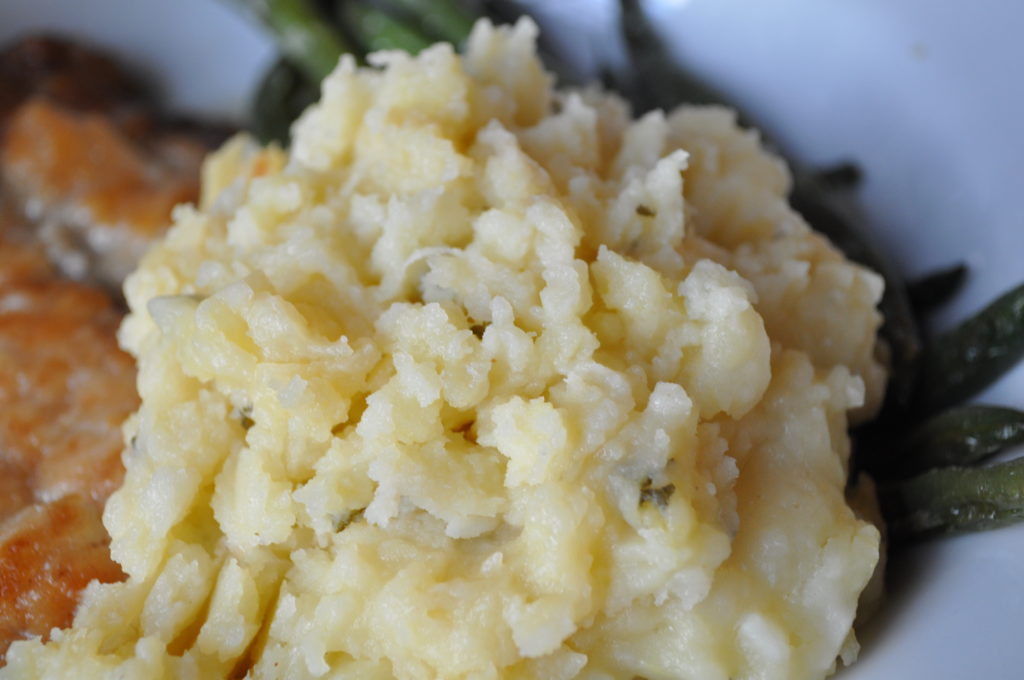 Serves 4
3          Pounds Yukon Gold Potatoes, Peeled, Cut Into Large Chunks
1          Pound Baby Turnips, Peeled, Cut Into Large Chunks
2          Teaspoons Coarse Sea Salt
4          Ounces Unsalted Butter
2          Tablespoons Chopped Fresh Sage
1          Cup Crème Fraiche
1          Teaspoon Coarse Sea Salt
½         Teaspoon Freshly Ground Black Pepper
Place potato and turnip chunks in a large sauce-pan and cover with cold water by 1 inch. Bring to a boil, turn heat down to medium, and cook covered until potatoes and turnips are fork tender, about 20 minutes.
Meanwhile, melt the butter over medium high heat. Add the chopped sage and cook until butter begins to turn a light golden brown and sage becomes fragrant. Add the Crème Fraiche blending into the butter and sage. Bring to a simmer and cook for 3 or 4 minutes until mixer begins to thicken. Add the salt and pepper and remove from heat.
Drain the potatoes/turnips and place back into the pan. Over medium high heat cook the potatoes/turnips quickly to evaporate any remaining cooking liquid. Remove from heat, add butter/sage/crème fraiche mixture and mash until fluffy.
Serve immediately.
We started the meal with a Farm To Table Salad of mixed lettuces with Pickled Red Onions and French Vinaigrette. Croutons made with artisan breads from the local bread maker.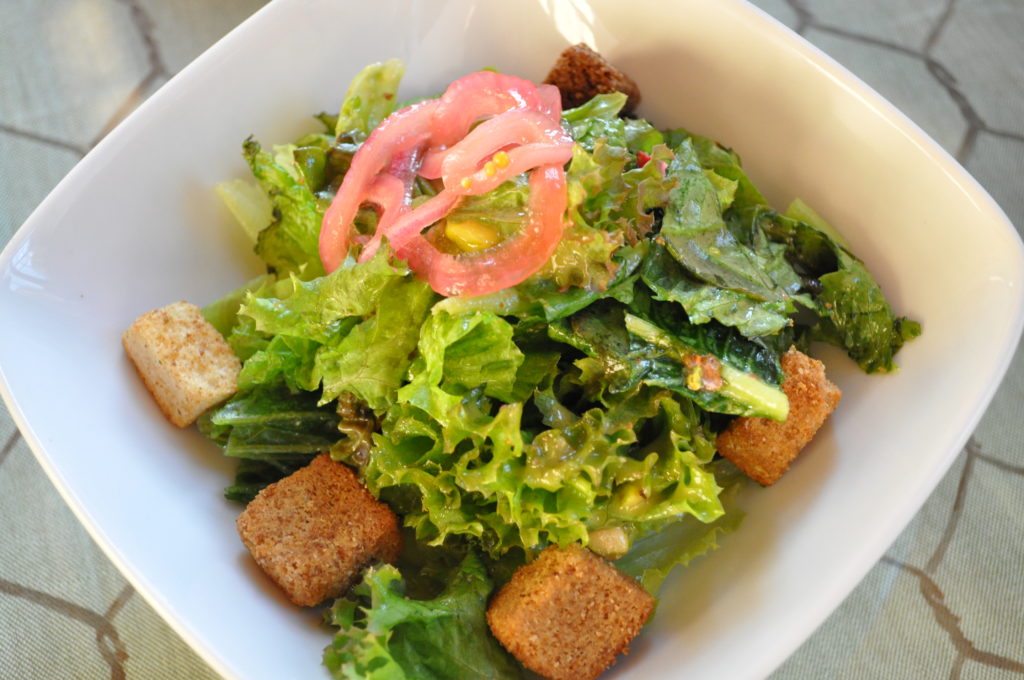 On Thursday we visited the Travelers Rest Farmers Market. This market is smaller but has the same quality of fresh food for sale. What was really interesting was that most of the purveyors were not at the Greenville Market. There are so many farms around here that it makes the markets interesting and not redundant. At the TR market there was live music, food trucks and a pig roast taking place with Porcetta Sandwiches for sale. Delicious!!!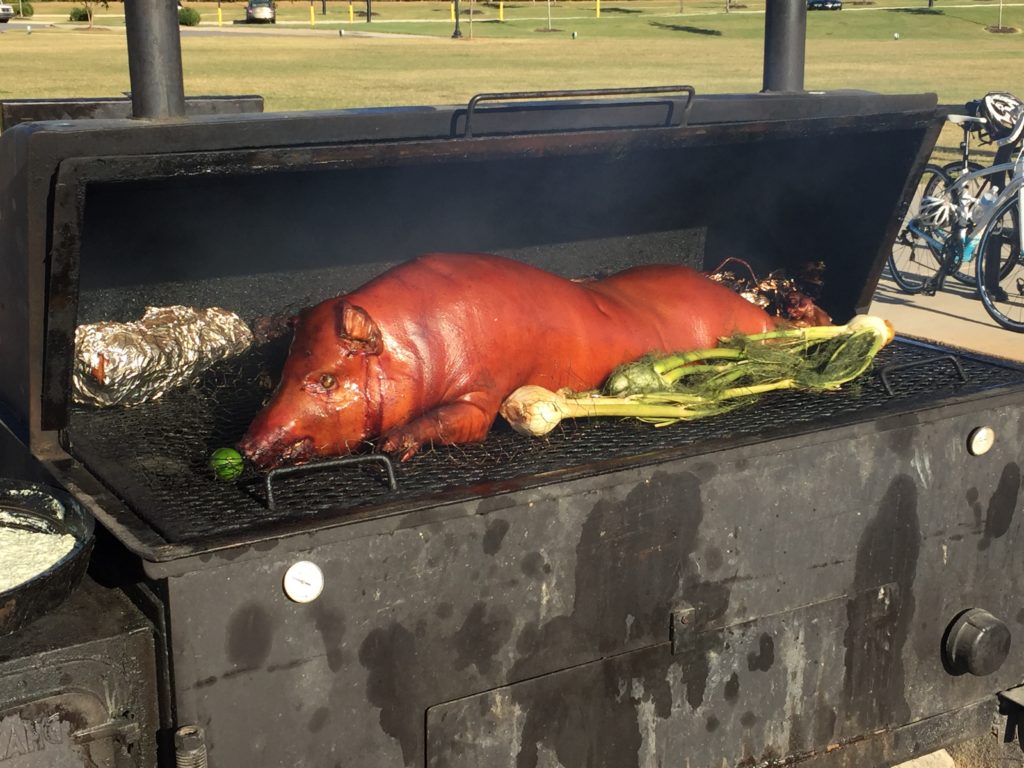 It's Saturday once again and I am off to the Greenville Farmers Market to stock up on fresh food for the week. This time I am going to bring more bags to carry all of my findings.
If you have any questions about the recipes please email me at