I love a good bowl of chili but I can only eat so much of the ground meat version, the kind I grew up on.  I started to make this chunky pork (using pork instead of beef is the twist) chili with white beans just to try something different and, low and behold, I came up with this concoction.  Everyone who's eaten it is happy I tried it and you will too.
What makes this stew-like chili a stand out is not only the chili itself, but all of the additions to it just before serving.  Everything goes well together and on a cold winter's night there is nothing better to heat your innards.
With Super Bowl Sunday a few days away I can't think of anything better than chili to have while watching the big game.  In fact I will be making this chili to take to friends as my contribution to the Super Bowl Buffet.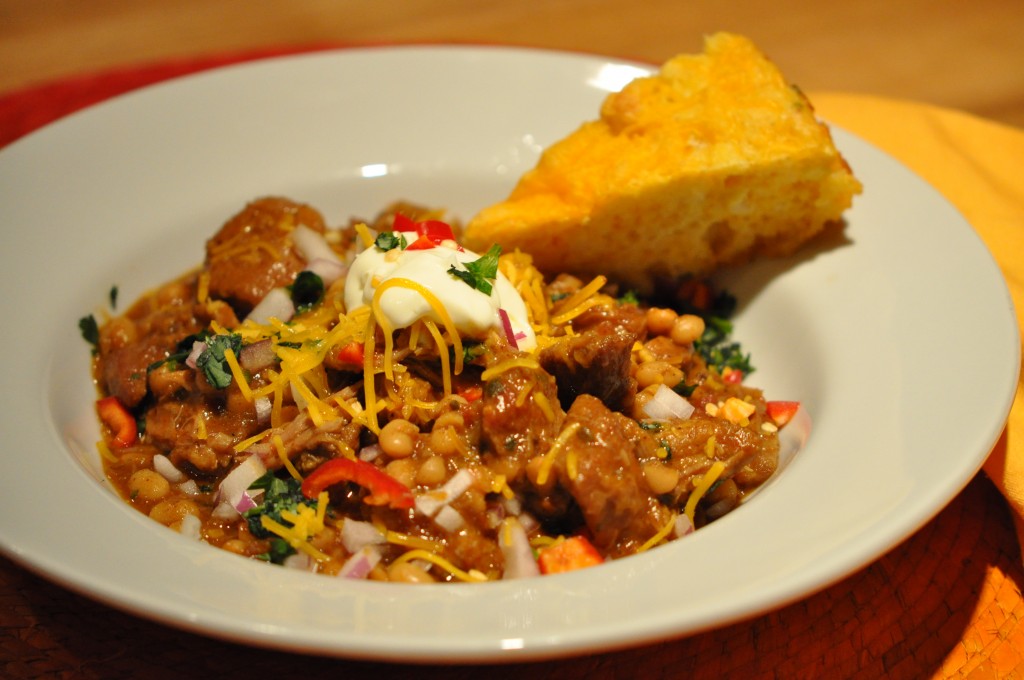 Serves 6 – 8
3     Pounds Boneless Pork Butt Trimmed of Most of the Fat, Cut into 2 Inch Cubes
2     Tablespoons All-Purpose Flour
3     Tablespoons Vegetable Oil
1     Teaspoon Coarse Sea Salt
½   Teaspoon Freshly Ground Black Pepper
1     Large Red Onion, Medium Dice
4     Garlic Cloves, Finely Minced
1      Tablespoon Chili Powder
1      Tablespoon Cumin Powder
2      Teaspoons Ancho Chili Powder
1       Teaspoon Chipotle Powder
1       Cup Tomato Marmalade
6      Cups Homemade Chicken Stock or Low Sodium Canned Chicken Broth
3      Cups Cooked Small White Beans or One 28 Ounce Can of Small White Beans Drained
Chopped Cilantro, Diced Red Onion, Grated Cheddar Cheese, Diced Jalapeño Pepper, Crème Fraiche, Cheddar-Jalapeño Corn Bread for Garnish.
Heat the oil in a large pan such as a Dutch oven over medium heat.  Pat the pork cubes dry and sprinkle with flour, salt and pepper.  Brown the meat in batches (do not crowd the pan) on all sides until brown, about 5 minutes.  After each batch of meat is browned remove to a dish.  In the same pan add the onions, garlic, chili powder, cumin, ancho and chipotle powders and gently sauté until the onions are soft, about 5 minutes.  Add the tomato marmalade and stir to combine.  Add all of the meat to the pan and add the chicken stock until it just covers the meat.  Bring to a boil, reduce the heat to a simmer, cover and simmer for 1 to 1½ hours or until the meat is fork tender.  Remove the meat from the pan and set aside.  At this point cut the chunks of pork into a more edible size.   If you cook the chili for 1½ hours with small chunks of meat they will shred and fall apart.  Not that it's so bad but I prefer to have chunks of meat. 
Skim the fat from the sauce and reduce by 1/3.  Add the meat back to the pan along with the beans and gently simmer, covered for 30 minutes.  Taste for seasoning and adjust accordingly.
Serve in heated chili/soup bowls and top with some of each of the garnishes.  Cut a good size wedge of the cheddar-jalapeño cornbread and nestle the pointed end into the chili.