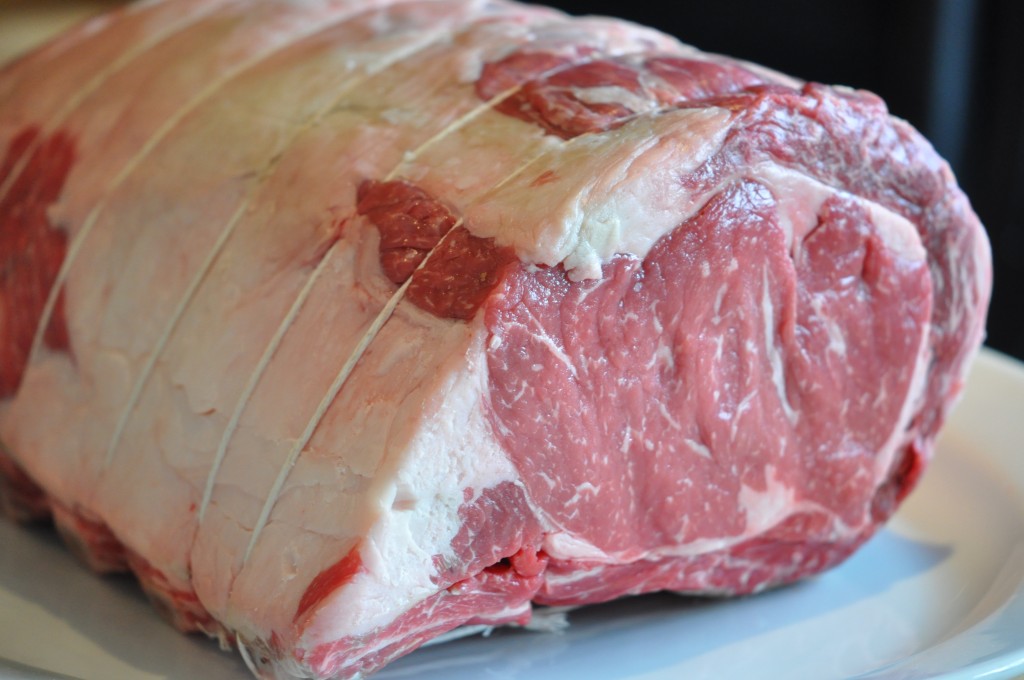 There is nothing better than a Roasted Prime Rib of Beef, Veal, Pork or Lamb for an elegant dinner party, a hearty winter meal or just because you have a taste for roasted meat.  I recently roasted all of the above mentioned and they were so delicious that I want to share a few of the secrets that made the meat moist, tender, delectable and really good.
BUY LOCALLY
The most important tip I can give you to achieve a wonderful roast is to start with a very good grade of meat.  When buying a rib roast this is the time to splurge and not cut cost.  I suggest you go to a neighborhood butcher instead of a grocery store or a big box store.  Why?  Forming a relationship with a local butcher is what makes buying meat a pleasure.  In fact, my practice is to buy all fresh food from a neighborhood or local purveyor.  That goes for seafood, poultry and produce as well as meat.
A relationship with your butcher, fish monger and produce person will give you confidence in what you are buying.  Once you form the relationship with these people you are always going to be happy with the product.  When you walk in to a local purveyor's store they know your name, your likes and dislikes and will listen to what you have to say – what you are looking for – and if you're not sure what you want, they can guide you in the right direction.  For instance, I had a dinner party the other night and just could not decide what to have for the entree.  I went to my local butcher shop and they made suggestions that led me to a Rack of Pork.  My butcher sells only prime meats unlike the grocery stores which sell only choice, select and standard (select and standard are very low on the chain of grading).
Following is a little primer concerning meat grading:
Meat Grading
U.S. Prime – Highest in quality and intramuscular fat, limited supply. Currently, about 2.9% of carcasses grade as Prime.
U.S. Choice – High quality, widely available in foodservice industry and retail markets. Choice meats are a little over half of the fed cattle total. The difference between Prime and Choice is largely due to the fat content in the beef. Prime typically has a higher fat content (more and well distributed intramuscular "marbling") than Choice.
U.S. Select (formerly Good) – lowest grade commonly sold at retail, acceptable quality, but is less juicy and tender due to leanness.
U.S. Standard – Lower quality, yet economical, lacking marbling.
There are four other grades, Commercial, Utility, Cutter, and Canner.  Commercial is super low quality, lacks tenderness and is produced from older animals.  I am not sure where this grade of meat is sold but I can guess.  The other three grades are rarely used in foodservice operations and primarily used by processors and canners.
I find that local purveyors sell meat, seafood and poultry that is steroid, hormone and anti-biotic free and  produce that is not dusted with pesticides and is chemical free.
I think I just got a little long winded on meat grading and buying.  Let's go on to cooking a really great Prime Rib of Beef.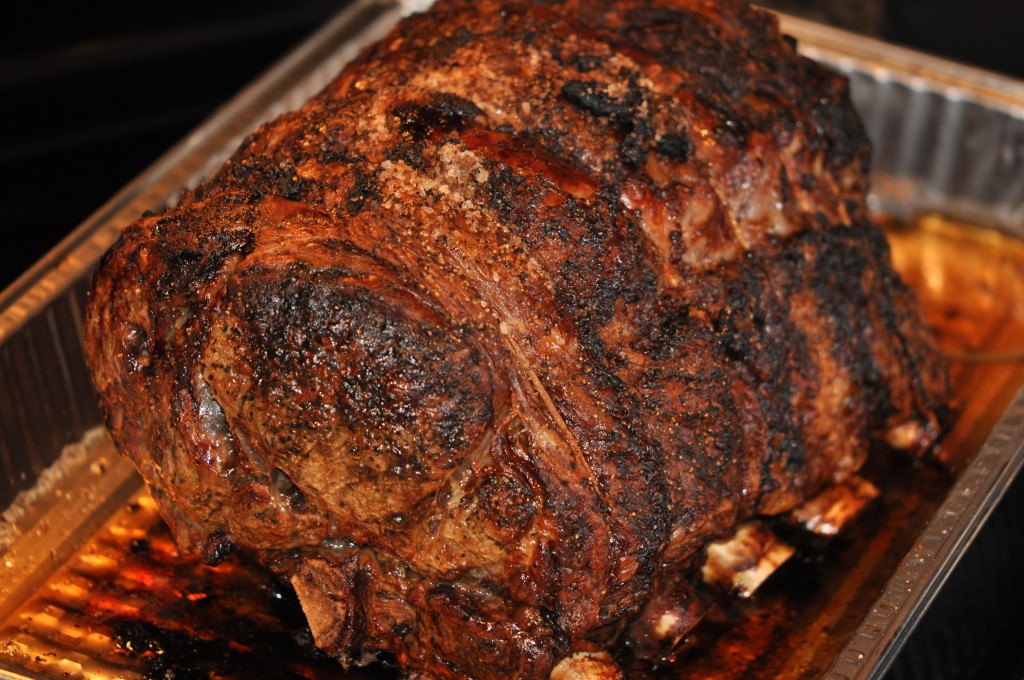 Serves 10 to 12
1        15 Lb. Prime Rib (About 5 Ribs)
½       Cup XVOO
2        Tablespoons Coarse Sea Salt
1        Tablespoon Coarse Ground Black Pepper (Butcher's Grind)
1        Tablespoon Garlic Powder
1        Cup Good Red Wine
3        Cups Homemade Beef Demi-Glaze or Good Quality Beef Stock
Horseradish Creme Fraiche as an accompaniment.
Preheat oven to 350º.
Place the Prime Rib in a shallow roasting pan.  Pour the XVOO all over the meat, sprinkle with the salt and pepper and rub everything all over the meat including the sides of the roast.
Roast the Prime Rib until the internal temperature registers 128 Degrees F for medium rare on an instant read thermometer when inserted in to the middle of the Roast (about 3 hours).
Remove the roast from the oven, place the roast on a serving platter and let rest for 30 minutes before carving.  In the mean time, pour off all of the fat left in the roasting pan and over high heat, de-glaze the pan with the red wine scraping up all of the bits on the bottom of the pan.  Bring to a boil and reduce by half.  Add the beef demi-glaze or stock to the pan and bring back to a boil.  Reduce slightly (by about 1/3).  Strain Au Jus and serve with Prime Rib.  Serve Horseradish Creme Fraiche as an accompaniment.
Hints and Tips: Ask your butcher to trim the Prime Rib leaving some of the fat cap on and to remove the chine bone.  Removing the chine bone makes it easy to carve.   Have him cut the meat away from the rib bones and then tie it back on.  This, also, makes it easy to carve and tying the meat insures even cooking.  The meat will not pull away from the center muscle.
If you have a Probe that attaches to your oven, this is the time to use it.  If you don't have one, I suggest you invest in a Remote Probe which can be purchased at a kitchen store such as Williams-Sonoma or Sur La Table.  Using a meat probe will insure a perfectly cooked roast.  What I especially like about the probe is that it automatically gives you the internal temperature, you will be opening the oven door less keeping the heat where it should be – in the oven.  I can't stress this tool strongly enough.  With a meat probe you can cook any kind of roast and always get perfect results.  If you do only one thing I suggest in this recipe, make it this – USE A MEAT PROBE.  (You won't need to use an instant read thermometer if you use a Probe.)
Remember, it's not about the time it takes to cook the meat but the internal temperature of the meat.  Everyone's oven is different so if it takes a little longer or a little less time it doesn't matter, just as long as you get the right internal temperature.
If you use a Probe, do not take the probe out of the meat until you are ready to carve.  If you do take it out when the meat comes out of the oven, the juices will run out.  Not a good thing.
I use garlic powder, instead of fresh garlic, because fresh will get too dark and have a bitter and burned taste when used on a roast this size.  Three hours is too much cooking time for fresh garlic.
If you want a thicker sauce, add a little cornstarch that has been dissolved with water.  Use only 2 or 3 teaspoons of cornstarch to about 2 tablespoons of water.  Dissolve the cornstarch in the water by using your finger tips.  You don't want any lumps.  When the Au Jus comes to a boil, gradually add the cornstarch-water mixture stirring with a whisk the whole time until you reach a slightly thicker consistency.  You want a thin sauce, not gravy.
I hope I have made cooking Prime Rib a less daunting task.  You will be so happy I have spent these many years perfecting my Prime Rib Cooking Skills.  As I said above, the key to a great Roast is two fold:  A Great Piece of Meat and a Cooking Probe.
Happy Roasting!!!  Let me know how it turns out.