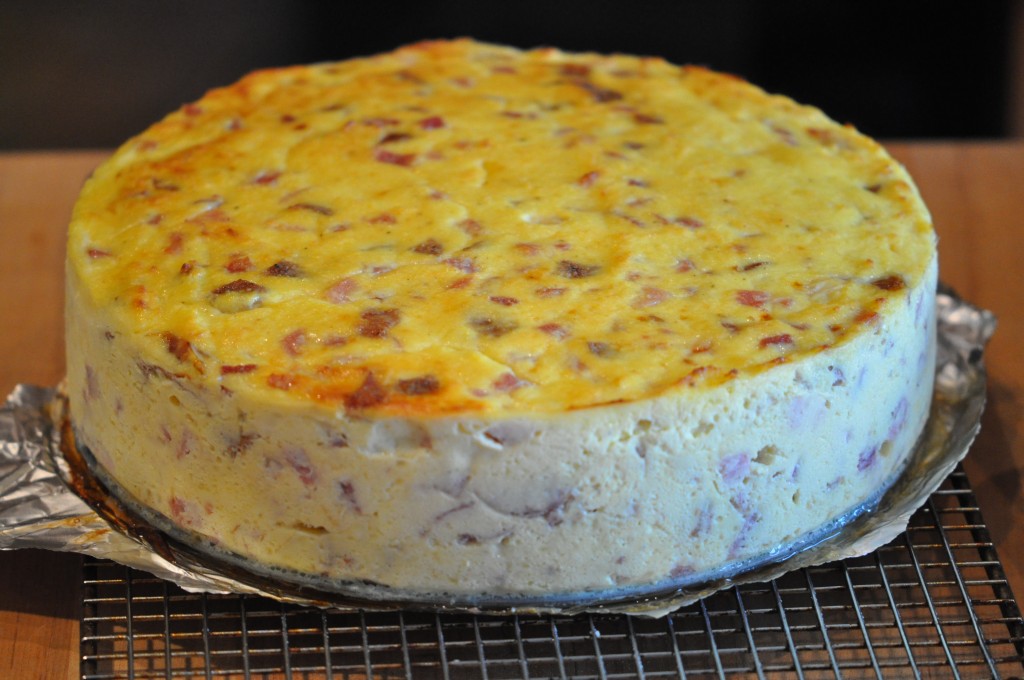 Serves 15 Generously
24      Large Eggs
1        Lb. Whole Milk Ricotta, Drained
1        Lb. Italian Sausage, Cooked and Cut into Small Dice
1        Lb. Ham Steak, Cooked and Cut into Small Dice
1        Tablespoon XVOO
Preheat oven to 350º.
In a large bowl, gradually beat the eggs into the ricotta.  Beating two or three eggs at a time into the ricotta will keep the lumps away.  Add the sausage and the ham to the egg mixture and thoroughly combine.
Over medium low heat add the oil to a Non-Stick 10" skillet with 3" high sides.  Heat the oil until warm and add the frittata mixture to the pan.  With a heat-proof rubber spatula, gently begin pushing the sides of the frittata towards the center, flattening out the frittata as you go.  Do this over and over until the frittata begins to set, about 15 minutes.  After it is loosely set, transfer the frittata to the oven and bake until completely set and golden brown on top, about 20 – 30 minutes.
You will know it is done when a thinly bladed knife inserted into the center comes out clean.
Remove from oven and let rest in pan for 15 minutes.  Invert frittata to a serving platter.  Serve immediately or cool to room temperature before serving.  Either way is wonderful.
camille@camillecooksforyou.com
Happy Easter!!!!