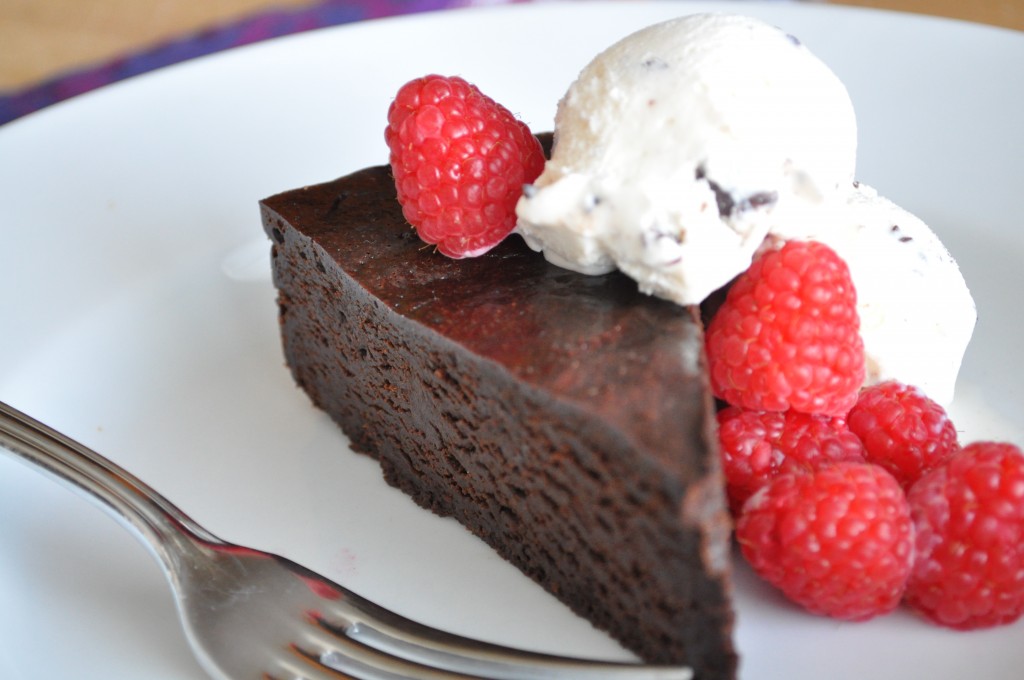 8          Large Eggs, Cold
2          Tablespoons Instant Espresso Powder
1          Pound Semi-Sweet Chocolate Coarsely Chopped
½         Pound (2 Sticks) Unsalted Butter Cut into ½ Inch Chunks
White Chocolate Whipped Cream for Serving
Preheat oven to 350°.   Adjust oven rack to lower middle position.
Line the bottom of an 8" spring form pan with parchment and spray bottom and sides of the pan with non-stick baking spray.  Wrap outside of pan in foil so water does not seep in.  Set in a large roasting pan.  Bring kettle of water to boil.
Crack the eggs into the bowl of a standing mixer.  Sprinkle the eggs with the espresso powder and let sit for 5 minutes to allow the powder to soften.  Beat eggs and espresso powder with a standing mixer using the whisk attachment.  Beat on high for 5 minutes.  The mixture will thicken slightly and triple in size.
In the mean time melt chocolate and butter in a heat proof bowl over the simmering water until smooth and very warm 115 degrees (or melt chocolate and butter in the microwave on high in one minute intervals, stirring at end of each interval).  Gently fold the egg mixture into the chocolate a third at a time until incorporated. Pour the batter into the prepared pan. Pour boiling water into roasting pan until water reaches half way up the side of the cake pan.  Bake until cake has risen slightly, edges are just beginning to set,  a thin glaze has formed on the surface and an instant read thermometer registers 140-145° when inserted into the center of the cake, about 25 or 30 minutes.  Remove the pan from the water bath and cool on a wire rack until completely cool (about an hour or two).  Unbuckle the side of the pan and carefully remove it.  The cake will be quite soft and fudge like. Refrigerate for at least 4 hours.
Remove the cake from refrigerator and let set out for at least an hour before serving. Longer is fine.   This cake must be served at room temperature. Serve with White Chocolate Whipped Cream.  I served the piece in the picture with Strattaccelli Gelato (Chocolate Chip Gelato).  That was a little over the top.  I really like White Chocolate Whipped Cream the best served with this delicious decadent cake.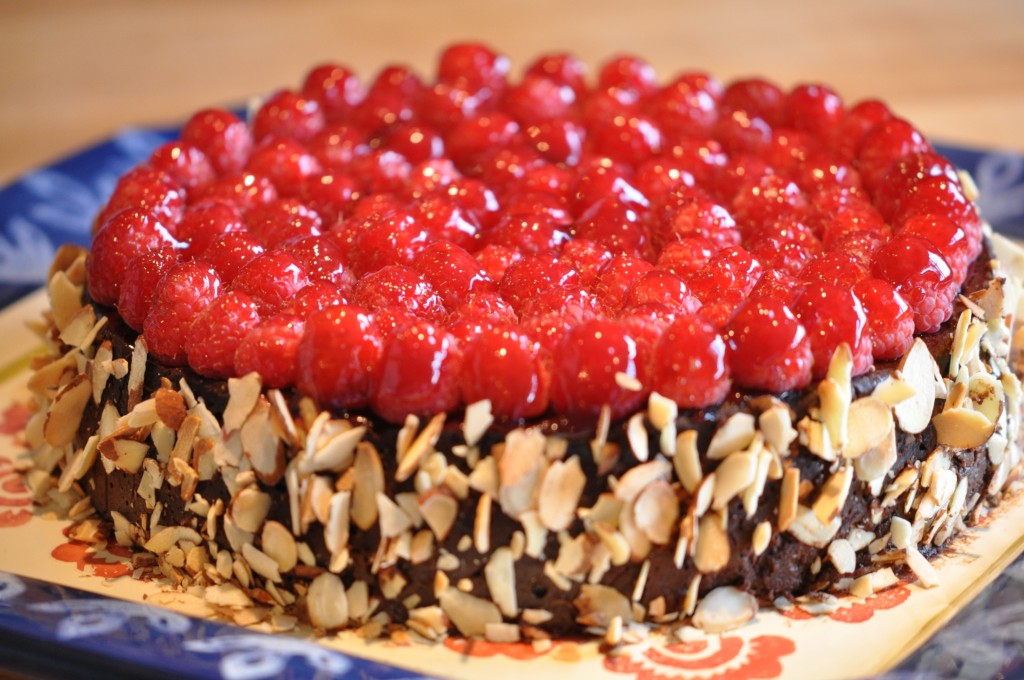 Hints and Tips: To make the cake even more spectacular than it already is, make a concentric circle with raspberries starting on the outer edge and working your way to the center. Glaze the raspberries by brushing on seedless raspberry jam that has been heated through and pureed with an emulsion hand blender.  Press toasted almonds onto the side of the cake and you have now created a WOW DESSERT.  (P.S. – You read the recipe right, there is no flour in this cake.  Zip, Zero, Zilch.)