Most mornings my day begins with a 4 or 5 mile walk along the New River in Fort Lauderdale followed by a hearty brunch of Low Fat Yogurt, Fresh Fruit and my Homemade Granola. My Granola is pure and simple; no preservatives or additives, no msg, little salt, little fat.
This recipe makes a lot, but if you don't want a huge batch it can easily be cut in half. You can also use whatever nuts you like. The Macadamia Nuts are a bit extravagant and the only way I can get my husband to eat Granola since Macs are his favorite (mine too). Sometimes I will have it with dried fruit like raisins, cranberries, apricots, pineapple.
Granola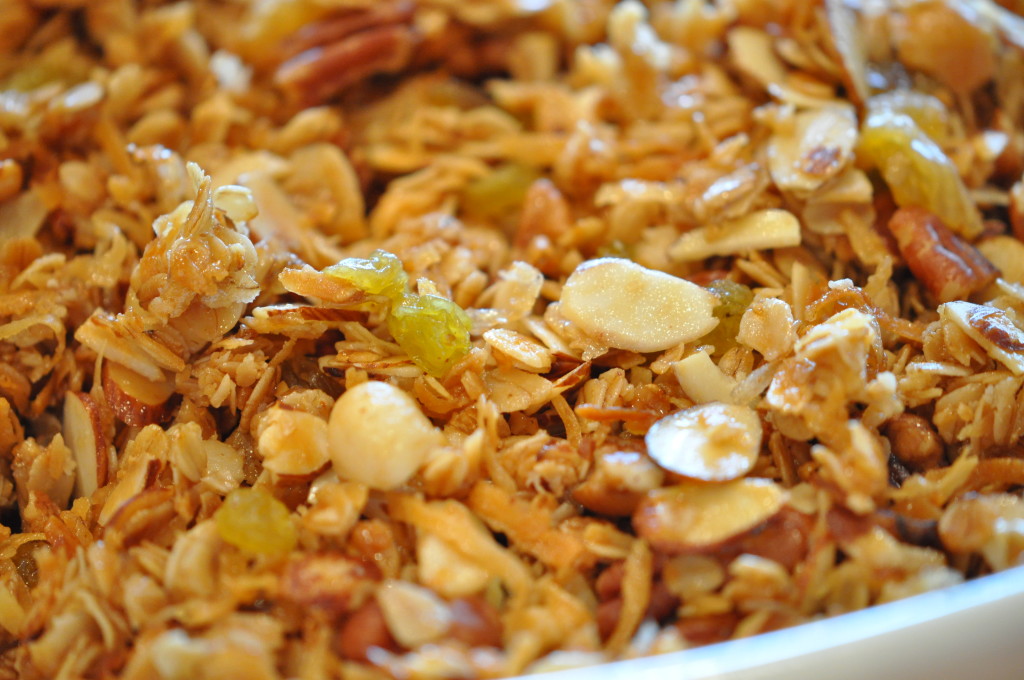 6          Cups Rolls Oats (Not Instant or Quick Cooking)
3          Cups Sliced or Slivered Almonds
2          Cups Pecan Pieces
2          Cups Macadamia Nuts, Coarsely Chopped
3          Cups Shredded Sweetened Coconut
1          Cup Orange Blossom Honey
1          Cup Pure Maple Syrup
1          Cup Vegetable Oil
2          Teaspoons Fine Sea Salt
Preheat oven to 300°. Lightly spray two half-sheet pans with Pam Non-Stick Spray for Baking.
In a very large bowl combine the oats, almonds, pecans, macadamia nuts and coconut.
In a medium size bowl combine the honey, maple syrup, vegetable oil and sea salt. Pour over the oat mixture and mix thoroughly. Divide the granola between prepared sheet pans and smooth out into an even layer on each pan. Bake the granola for 1 hour and 15 minutes to 1 hour and 30 minutes stirring every 30 minutes to insure an even color.
Remove from the oven and transfer granola to a large shallow bowl to cool and dry. During the cooling time break up the granola as it will become one solid piece and will not cool or dry properly. Once completely cool and dry store the granola in an airtight container.
The granola will last at least a month when stored in an airtight container at room temperature.