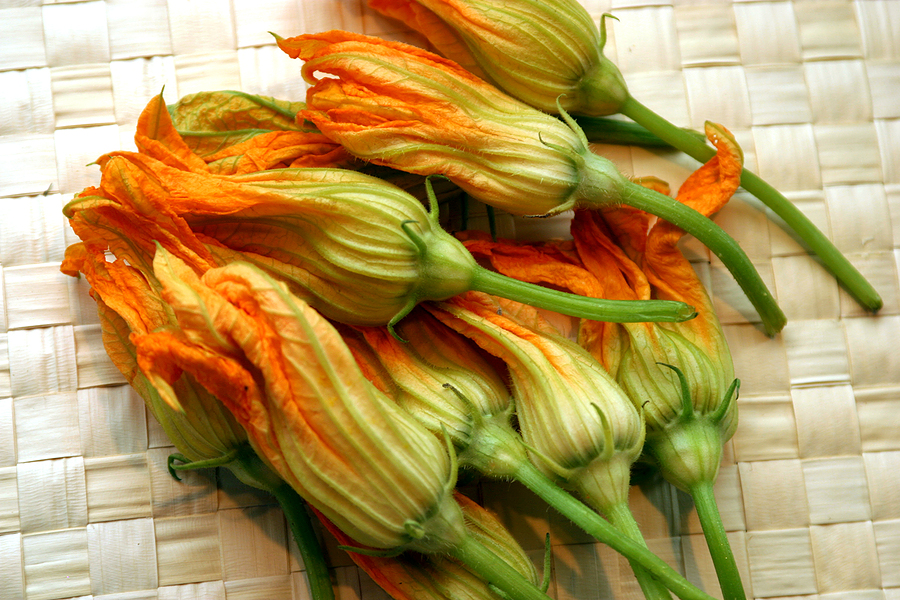 I found these beautiful blossoms at the market yesterday and I could not be any more excited about something this wondrous. In all of the years I lived in FLL I could not find Squash Blossoms at any market. I could order on line but they were no where in sight in any of the stores in town. Now that I live in a real farm to table community I have no trouble finding gems like these or other hard to find produce items.
Tonight I stuffed and battered the blossoms. I coated them with a light batter and quickly fried these gorgeous flowers from God. I did not want to stuff with any thing heavy or overpowering so I chose to stuff with a small thin slice of Cappicola and a little saffron rice I had left over from a previous night's dinner. The results were spectacular and the only thing I would change is to make more since 2 per person was not enough.
Here is what I did:  Heat about two inches of grape seed oil or canola oil in a deep sided pan to 350ºF. Use a candy thermometer since you should be as accurate as possible when heating oil.
For the batter I stirred together 3/4 cup of all purpose flour and 1/2 teaspoon of fine sea salt. I slowly added 8 ounces of Club Soda whisking the whole time to blend and smooth the batter. It will be thickish but not gloppy. A few lumps are ok.
Dip the flowers into the batter and gently shake off any excess batter. Place in the hot oil and fry until crispy and slightly golden, turning them in the oil to get all sides crisp and golden, about 3 minutes total. (Do not crowd the pan.)
Drain on a paper towel for a moment. Serve immediately. No sauce necessary as you do not want to hide the flavor of these glorious blossoms.