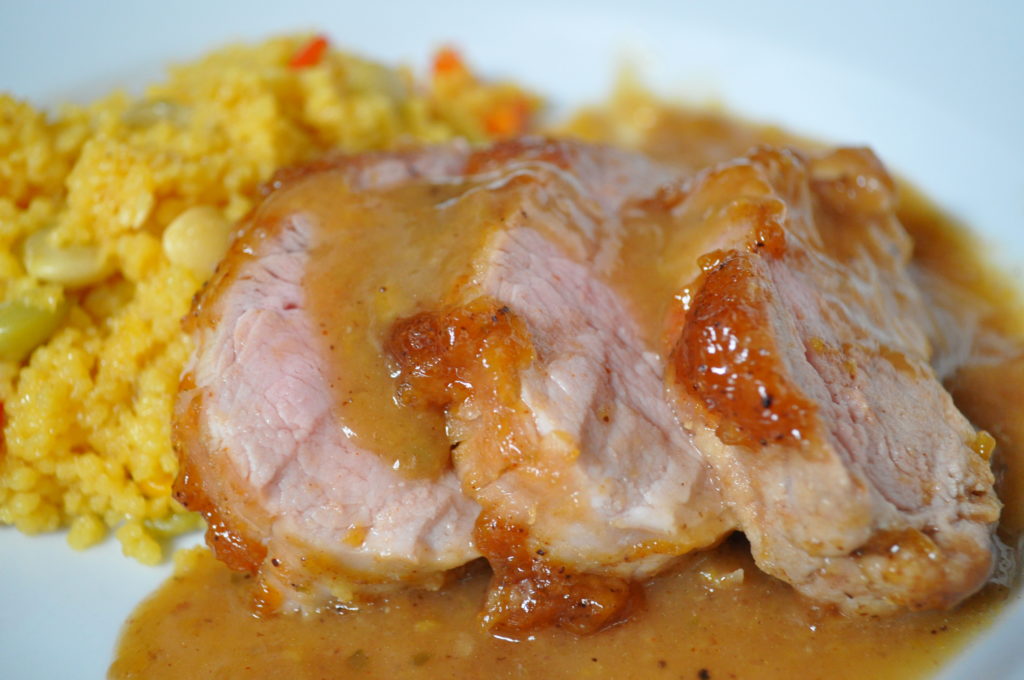 It's still peach season and I am continuing to take advantage of the season by make preserves, pies, cobblers and gelato with this year's beautiful crop of South Carolina Peaches. I came up with this Pork Tenderloin recipe using the Ancho Chili Preserves I make with Peach Jam.
If you don"t make your own peach preserves there are plenty of good quality preserves on your grocer's shelf.
Serves 4
1          1.5 to 2 Pound Pork Tenderloin Trimmed of Silver Skin and Fat
1          Teaspoon Coarse Sea Salt
½         Teaspoon Ground Black Pepper
½         Teaspoon Garlic Powder
¼         Cup All-Purpose Flour
¾         Cup Ancho Chili Preserves
2          Tablespoons XVOO
1          Tablespoon Unsalted Butter
2          Cups Homemade Chicken Stock or Canned Low Sodium Chicken Stock
Preheat oven to 375°F.
In a large skillet or sauté pan heat the oil and butter until hot and the butter has stopped bubbling, over medium high heat.
Rub the pork tenderloin all over with the salt, pepper and garlic powder. Dredge the pork in the flour. Reserve 1 tablespoon of the flour for the sauce. Sauté the tenderloin on all sides until golden brown, about 4 minutes on each side. Spread ½ cup of the Ancho Chili Preserves on the top of the pork. Transfer the pan to the oven and roast for 20 minutes, or until an instant read thermometer reads 140°F when inserted into the middle of the pork.
Remove the pork from the pan and set aside to rest for 10 minutes. In the mean time, drain most of the fat from the pan, leaving about 1 tablespoon of the fat. Over medium heat add 1 tablespoon of flour to the remaining fat and cook for a minute or two to make a roux. Add the chicken stock and blend it well with the roux in the pan. Add ¼ cup of the Ancho Chili Preserves and cook the sauce until nicely thickened.
Slice the pork into ½ inch slices. Spoon a bit of sauce on the plate and top with the pork.
I served my pork tenderloin with Vegetable Couscous and Braised Brussels Sprouts.
Enjoy!
camille@camillecooksforyou.com