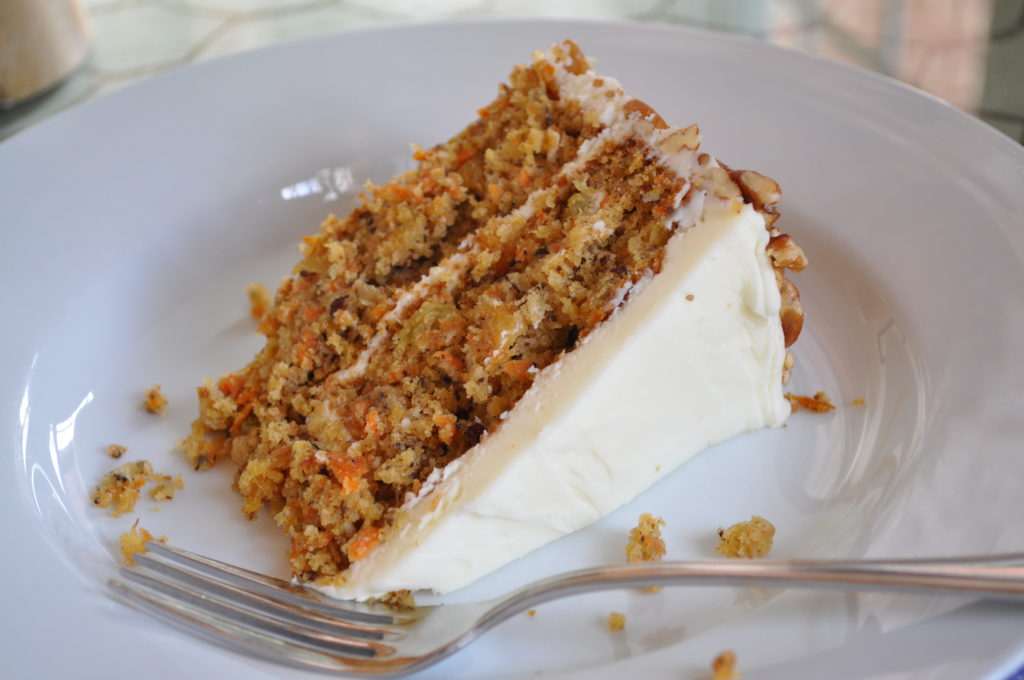 This is the best Carrot Cake I have ever made. It's moist and delicious; exactly what a Carrot Cake should be. It took 20 years to perfect the recipe as I started developing it when I was just getting started cooking professionally. I was working in a restaurant in Delray Beach, Florida, for a man who had no idea what was involved in owning and running a restaurant. Good for me because he trusted me enough to do whatever I wanted. My staff and I were responsible for making everything on the menu including the two different breads each day served for lunch and dinner (one yeast bread and one quick bread) and four or five different desserts daily. The whole menu changed  completely everyday, lunch and dinner.
A note of caution: Be sure to whisk the dry ingredients thoroughly. If the baking soda is not mixed in well or if it is added as an afterthought, the carrots will turn green during baking. Baking soda has that type of chemical reaction with carrots. I found this out when a friend made the cake and put the baking soda as an afterthought because it was forgotten in the whisking of the dry ingredients. It will not affect the flavor or texture of the cake but it will be a bright green. It might be ok for a St. Paddy's Day Cake but really not a good idea.
Makes Two 9" Layers
2          Cups All Purpose Flour
2          Teaspoons Baking Powder
2          Teaspoons Baking Soda
1          Teaspoon Fine Sea Salt
1/2      Teaspoon Ground Cinnamon
1/8      Teaspoon Freshly Grated Nutmeg
4          Large Eggs, Room Temperature
1          Cup Dark Brown Sugar, Firmly Packed
1¼      Cups Vegetable Oil
1½      Cups Crushed Pineapple, Drained (From a 20 Ounce Can)
2          Cups Grated Carrots
1          Cup Golden Raisins
1          Cup Chopped Walnuts or Pecans
1          Teaspoon Pure Vanilla Extract
1          Recipe Cream Cheese Frosting
Preheat oven to 375°F.  Spray two 9" round baking pans with Pam for Baking. Line the bottom of each pan with a round piece of parchment paper and spray with Pam as well.
In a medium size bowl, whisk together the flour, baking powder, baking soda, sea salt, cinnamon and nutmeg. Set aside.
In the mixing bowl of a standing mixer fitted with the whisk attachment beat the eggs until very light and fluffy about 5 minutes (medium high on the mixer's speed). Add the brown sugar and continue beating again to a light and fluffy consistency, about 2 minutes more. With the mixer still running add the oil in a slow and steady stream and beat until well blended, about 1 minute. Change the speed of the mixer to low. With the mixer off, add the pineapple, carrots, raisins, nuts and vanilla. Beat slowly until well blended.
With the mixer turned off, add the flour mixture all at once and gently beat on low speed until just combined. Don't over-mix.
Divide the batter between the two pans and bake for 25-35 minutes. The cake is done when a wooden pick inserted in the middle of the cake comes out clean.
Remove the pans from the oven onto a cooling rack. Cool in the pans for 20 minutes. Invert cooled layers onto the cooling rack and cool completely before frosting with cream cheese frosting.
Makes Enough to Frost a 9″  Two Layer Cake
8          Ounces Cream Cheese at Room Temperature
8          Ounces Unsalted Butter at Room Temperature
4          Cups Confectioners Sugar, Sifted
2          Teaspoon Pure Vanilla Extract
It is very important that butter and cream cheese are at room temperature. If one is colder than the other, it will lump up.
In the bowl of an electric mixer fitted with the paddle attachment, beat cream cheese and butter until light and fluffy. With the mixer on low, gradually add powdered sugar to cream cheese and butter. Be careful to not over mix. It will become runny if you do. Add vanilla. Beat until combined.