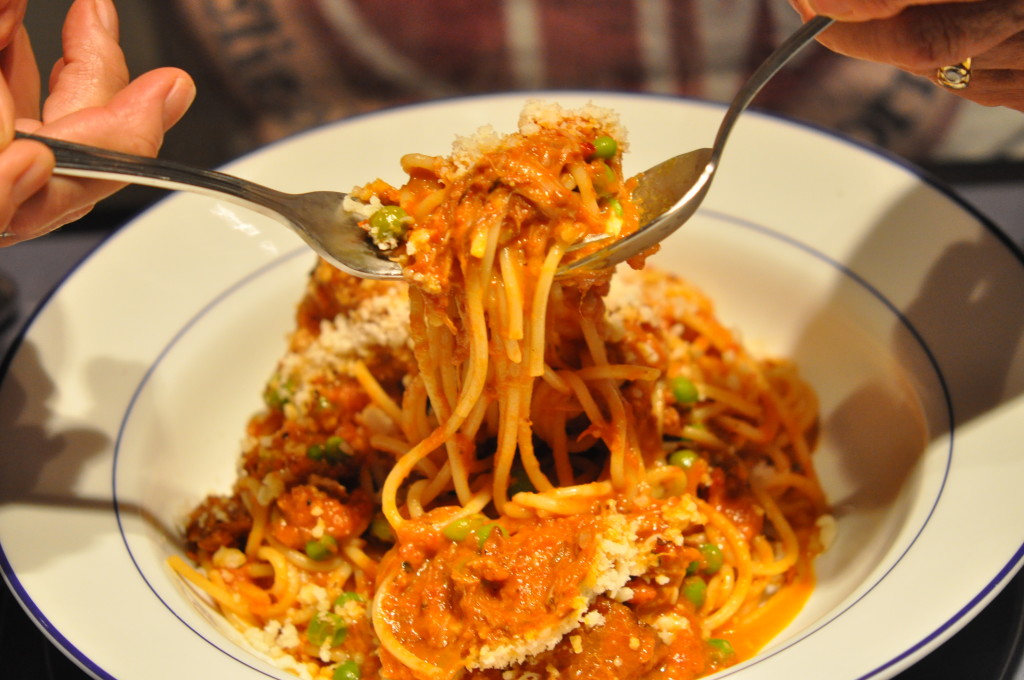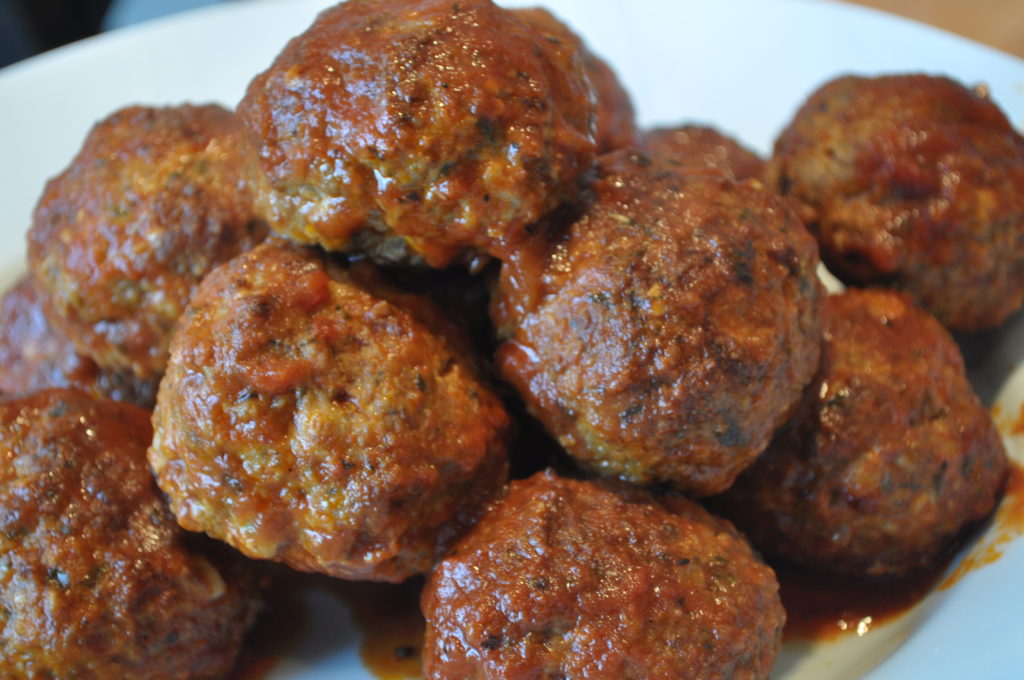 My absolute favorite thing to eat in this whole world is Spaghetti and Meatballs using my Roasted Marinara (Gravy is what we called it and still do). These two recipes are my treasures and I hope you will enjoy them as much as I do.
I started roasting my marinara purely by accident, or fate, or serendipity (and there is serendipity in cooking).  To begin with, I see no reason to make this sauce unless I am making a large quantity.  Why go through all the work for just a cup or two?
I am sure you can imagine how much room a large roasting pan takes on top of the stove.  I needed the stove-top to cook other things so I stuck the pan in the oven and the outcome was so wonderful I've never looked back.  That was over 20 years ago.  The heat in the oven cooks the sauce all around the pan, not just the bottom.  If you have a convection oven it is even better. The flavor from the roasting of the sauce is so much more alive and the color is even more vibrant.  It also makes for less of a mess to clean up on the stove top.
Makes About 6 Quarts
6          28 Ounce Cans San Marzano Plum Tomatoes with Juice
1          Cup XVOO
3          Large Spanish Onions, Sliced
½         Cup Garlic Cloves
1          Tablespoon Dried Basil
1          Tablespoon Dried Oregano
1          Teaspoon Dried Thyme
½         Teaspoon Crushed Red Pepper Flakes
1          Tablespoon Coarse Sea Salt
2          Teaspoons Freshly Ground Black Pepper
¾         Cup Balsamic Vinegar
Preheat oven to 375° with the rack in the lower third of the oven.
Heat XVOO in a large non-reactive roasting pan over medium high heat.  Add onions and garlic and sauté until slightly softened, about 5 minutes.  Add basil, oregano, thyme, crushed pepper, salt and pepper and stir to combine.  Cook 2 minutes.  Add balsamic vinegar and reduce by half.  Add the tomatoes (do not drain).  Break up the tomatoes with the edge of a metal spatula or, carefully, use the lid from one of the tomato cans.  Stir everything together and bring to a boil.  Transfer pan to preheated oven and roast for 2½ to 3 hours, stirring every 20 – 30 minutes.
Sauce will reduce and thicken.  Using a hand held blender, puree the sauce breaking up all the chunks of tomato and onion.  Alternately, you can puree it in batches in a food processor.  Transfer to a container and cool completely before refrigerating.
This is the perfect sauce for freezing.  Divide into plastic freezer containers and freeze up to 2 months.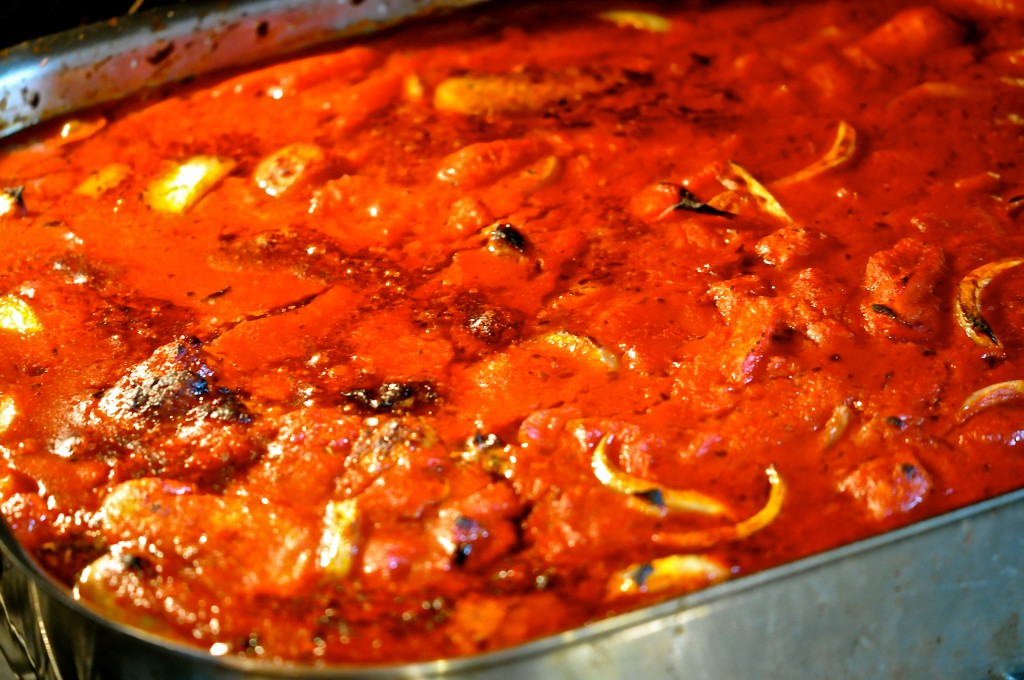 This recipe makes enough meatballs for a crowd.  The recipe can easily be cut in half. If you can't find ground veal or if you don't want to spend the extra $$ double up on the pork. I chop the onion and garlic in the food processor until it is very fine. Use the juice that extracts from the chopping. You can also chop the parsley in the food processor but don't do it with the onion and garlic as it will all turn a very bright shade of green.
2          Pounds Ground Chuck
1          Pound Ground Pork
1          Pound Ground Veal
1          Medium Spanish Onion, Finely Chopped
8          Garlic Cloves, Finely Minced
½         Cup Finely Chopped Italian Parsley
½         Cup Finely Grated Parmigiano Reggiano
1          Cup Dried Toasted Bread Crumbs
4          Large Eggs, Slightly Beaten
3          Teaspoons Coarse Sea Salt
1          Teaspoons Freshly Ground Black Pepper
1          Teaspoon Dried Basil
1          Teaspoon Dried Oregano
¼         Teaspoons Crushed Red Pepper Flakes
XVOO For Roasting Meatballs
Preheat oven to 400°F. Line two half-sheet pans with foil. Brush a coating of the XVOO on to the foil lined pans and set aside.
In a large bowl combine the 3 meats using two forks. Once thoroughly combined add all of the ingredients except the XVOO and thoroughly combine.
Using a 3-ounce ice cream scoop, form the meatballs into consistent sized balls and place 2 inches apart on the half-sheet pans. Drizzle a few drops of the XVOO on to each meatball and bake until meatballs form a nicely browned crust, about 20 minutes. Remove the balls from the oven and continue to cook in Roasted Marinara sauce for 45 minutes.
Hints and Tips: I often sauté the meatballs on top of the stove using both canola oil and XVOO. Use a pan with high sides with about an inch of equal parts of the two oils. Cook the meatballs until a crust forms on all sides. Remove from the oil and continue to cook in Roasted Marinara.